'Major' problems for NHS 111 service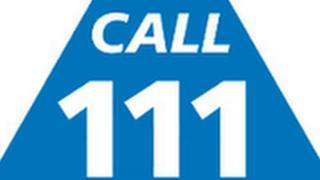 The future of the new NHS non-emergency telephone service in a quarter of England has been thrown into doubt after one of the major providers admitted it was facing severe problems.
NHS Direct won 11 of the 46 contracts for the 111 service, which is in the process of being rolled out.
But the organisation has now pulled out of two areas and admitted the others may be "unsustainable".
The 111 service has been plagued with difficulties in recent months.
It was meant to go live in April, but ministers relaxed this deadline when it became clear many of the areas would not be ready.
By the start of May only half of the services, run by a variety of organisations including ambulance trusts, private companies and NHS Direct, which ran the old telephone advice line, were fully up-and-running.
Those that were not completely live were either relying on extra support parachuted in from other parts of the health service to provide a service or had not been launched at all.
There have also been problems with performance with reports of callers not being able to get through and inappropriate referrals by 111 staff putting strain on ambulances and hospitals.
'Financially unsustainable'
The two areas NHS Direct has pulled out of - Cornwall and North Essex - were among the areas where 111 had not been launched.
This move was confirmed in a board paper published this week.
The report also contained a warning about the other nine services NHS Direct runs.
It said that call volumes were between 30% and 40% of the contracted levels, which meant the organisation would receive "substantially lower income than originally budgeted".
It added: "The imbalance of costs and income on NHS Direct's 111 contracts means that each of the 111 contracts as they currently stand are financially unsustainable."
In a statement, NHS Direct chief executive Nick Chapman said he had apologised to Cornwall and North Essex, adding "discussions were ongoing" about the other services.
A spokesperson from NHS England, which oversees the 111 service, said its officials were working with the NHS Trust Development Agency, local commissioners and NHS Direct to "identify a solution".
A Department of Health spokeswoman said: "The majority of the country has a good NHS 111 service but we know that there are still problems in a few areas.
"It is only right that NHS England and the NHS Trust Development Authority both work closely with NHS Direct to help it offer a high quality NHS 111 service."
But British Medical Association GP leader Dr Laurence Buckman suggested the problems were inevitable.
"You can't just have a bit of cute telephony and think you can run an urgent care service. You need the right people and if they cost money that's what you have to spend.
"We could see this coming, it was so obvious it was going to happen and we said over and over again and in public 'don't do this, get it right, test it, make sure it's ok.'"
The news of the problems came on the day Health Secretary Jeremy Hunt appeared before the House of Commons' health committee.
Speaking about 111, he said while there had been "teething problems" it remained a "good idea".
"Despite the controversy I don't think we should throw the baby out with the bathwater," he added.