Brain tumour treatment 'lagging behind'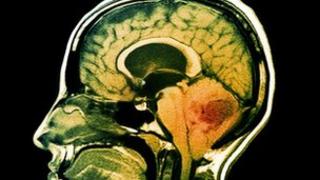 Treatment for brain tumours is "seriously lagging behind" that for other cancers, campaigners warn.
Brain Tumour Research says the condition receives less than 1% of national funding for cancer research.
They warn 75% of those who die from the condition are under 75 and that brain tumours are one of the few conditions becoming much more prevalent.
Cancer Research UK said research into brain tumours was a "key priority", so more patients could survive the cancer.
Brain tumours are the leading cause of cancer deaths in young people.
While almost three quarters of brain tumour deaths occur in the under-75s, the comparable figure for cancer as a whole is 47%.
Prognosis after diagnosis is poor.
Over half (58%) of people diagnosed with brain cancer die within a year compared with 5% for breast cancer, 35% for leukaemia and 7% for prostate cancer.
Brain cancer is also the leading cause of cancer deaths in children.
'100 years to catch up'
Brain Tumour Research says that from 2002-12, total National Cancer Research Institute (NCRI) spending was £4,515m - but of that, only £35m went to fund brain tumour research.
The charity says it wants the government, large cancer charities and the public to band together and significantly increase the investment into brain tumour research.
Sue Farrington-Smith, director of Brain Tumour Research, said: "Our research shows that while in the past 10 years there have been huge strides forward in the treatments and therefore survival rates for some cancers such as breast cancer and leukaemia, treatments for brain tumours lag seriously behind and, at current research spend levels, it could take another 100 years to catch up.
"There isn't enough awareness about brain tumours, in contrast with say breast cancer or leukaemias. GPs aren't necessarily aware and do not put people forward."
And she said that due to improvements in the management of other cancers, which enabled people to survive their primary tumours, secondary brain cancers had now become more common.
Ms Farrington-Smith added: "Every day I hear from people whose lives are being devastated by this disease, whose treatment is falling short, who are living without hope for a cure.
"Action needs to be taken now, by the government, the larger cancer charities and the general public, we can't afford to wait a year, let alone 10."
Dr Julie Sharp, of Cancer Research UK, said: "There's an urgent need for more research into brain tumours and we're determined to improve the outlook for patients and their loved ones.
"Our researchers developed the drug temozolomide, used worldwide to treat the most common type of brain tumour.
"And last year we spent more than £4m on brain tumour research, as well as £129m on research that underpins all types of cancer.
"But we need to ensure that more people survive, which is why brain tumour research is one of our key priorities and we continue to work closely with brain tumour charities and researchers to share resources and expertise to boost research efforts."