Medical students set bad example by doctors, says research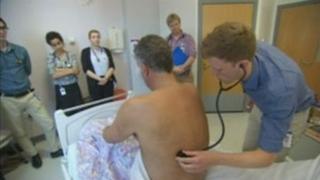 Under the watchful eye of Dr Matthias Schmidt, third-year medical students from Newcastle University are getting some hands-on experience, a vital part of their training.
Sitting in his bed on the infectious diseases ward in the city's Royal Victoria Hospital, the patient, Sean, is recovering from a nasty bout of malaria.
He is introduced to the group of students, who are using this opportunity to learn not just how to examine patients, but how to talk to them with compassion and respect.
These are skills, says Dr Schmidt, that are crucial for their development.
"Tomorrow's doctors want to be the doctors that are trained absolutely perfectly.
"And if I don't set a good example, if the medical school doesn't set a good example, then we won't be looked after well."
This kind of practical training is essential for medical students.
But research from Cardiff and Dundee universities suggests that young medics often witness behaviour, or are asked to do things, that they just don't agree with.
Surveys and interviews with hundreds of British medical students show that some senior doctors setting far from a good example.
Students say they have witnessed, or taken part in, breaches of patient safety and dignity - and commonly experience abuse from those who should be teaching them.
'You're so fat...'
Some of the testimonies gathered from medical students are jaw-dropping.
"A patient was told by the consultant... you shouldn't even be here. You're so fat I shouldn't even have considered you for surgery."
"The consultant said to me, 'You there - the decoration - why did you even come to med school? Do you have a brain in your pretty head?'"
"A fellow student performed an unconsented rectal examination on an anaesthetised patient."
Issues around consent are particularly troubling.
I met one young medical student who didn't want to be identified because of the repercussions speaking out may have on his career.
He was asked to carry out an intimate examination of a 14-year-old boy who was under general anaesthetic - without the proper consent of the patient or his parents.
"The senior clinician supervising made it quite clear we had to get on and do this because it was part of our clinical training.
"The difficulty is that without expressed consent or explicit consent it is very hard to justify your learning needs over-riding the dignity of a patient in that circumstance.
"It's also very hard after the event, or during, to actually report that to your seniors because it is seen as not demonstrating an appropriate level of deference to the clinician who was trying to help you advance your education."
Awkward
For the authors of the research, the big concern is that a failure to treat patients with compassion and dignity may be subtly influencing the future behaviour of today's medical students.
Dr Lynn Monrouxe of Cardiff University says these issues have a direct relationship to the sort of concerns raised by the Francis inquiry into poor care at Stafford Hospital.
"It's unnoticed patterns of behaviour that recur, again and again.
"And the students pick up these subtle patterns of behaviour and they come to learn this is how things are done around here, this is how work is done.
"The small subtle interactions, that happen day in, day out - not necessarily the big, shocking, news-grabbing headlines - it's the things that can't be counted that really count."
Newcastle University medical school is one of those that took part in the research.
The director of studies, Roger Barton, who oversees the training of medical students, says the school has looked again at its training.
But he argues some students may not be prepared for what they have to face.
"The Cardiff research actually uncovered some very interesting things, partly about almost the reluctance of medical students to get involved with intimate examinations because they almost felt it wasn't legitimate for them to do so.
"I think our perspective is, well, you might feel awkward but it is going to be something that is really necessary for you as a qualified practitioner, so we've got to go ahead and do it."
Tomorrow's doctors need to gain hands-on experience. Patients must be treated with dignity.
This research shows that striking that balance is not always easy.