Doctors admit problems with Liverpool pathway for dying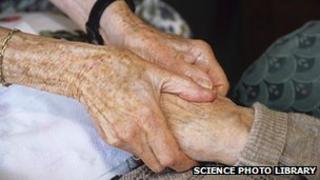 There are problems with a controversial regime that allows doctors to withdraw treatment in the last days of life, doctors have admitted.
Members of the British Medical Association said dying patients may have been put on the Liverpool Care Pathway when it was not appropriate because hospitals were offered financial incentives to use it.
They also said some patients had stayed on it for weeks without follow-up.
An independent review is expected soon.
Ministers ordered the inquiry, chaired by the crossbench peer Baroness Neuberger, after it came under intense scrutiny in the media at the end of last year. There were reports it was being misused by hospitals that get financial payments for using it.
Relatives of dying patients had complained that their loved ones had been put on the pathway without consent.
When Care and Support Minister Norman Lamb announced there would be a review of the pathway at the turn of the year, he said he was concerned about the "unacceptable" cases that had come to light.
During a debate of the issue at the BMA annual conference in Edinburgh, doctors made it clear that the pathway was an important part of end-of-life care.
They were also critical of the media coverage.
But York GP Dr Mark Pickering said while some of the reporting had been "hysterical", there were some problems.
"Among the media frenzy there were some valid points: relatives unaware that their family members were on the LCP; senior clinicians unaware that their patients were on the LCP; patients left on the LCP for weeks without any review or re-evaluation."
He said these problems should have been addressed already.
But he also said the financial incentives offered to hospitals to get people on the pathway, a system put in place to reward good practice, "risks a tick-box culture" where patients were put on the LCP regardless of whether it was appropriate.
Medical student Sasha Marie, who wants to specialise in the care of the elderly, said part of the problem was the lack of exposure to the issue during training.
"We can't escape death as doctors. But in medical school we focus so much on saving lives that dying is put to one side."
Prof Baroness Finlay, a crossbench peer and palliative care doctor, agreed that training was a factor that needed to be addressed, but said that included other health professionals such as nurses as well as doctors.
She also said doctors needed to be aware that the LCP was not a "one-way street", pointing out that 3% of patients put on it do not die at that time.