Bullying 'creates toxic NHS culture'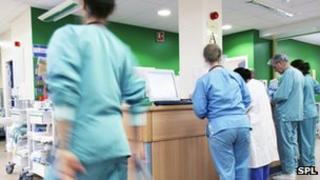 A culture of bullying and secrecy has created a "toxic working environment" in the NHS, doctors say.
The British Medical Association annual conference heard how a proper system of regulation needed to be introduced for managers so they could be held to account.
This idea has already been put forward by the Francis Inquiry into the Stafford Hospital scandal.
But so far ministers have resisted such a move.
However, the government has said managers responsible for failures will be barred from working in the health service.
Addressing the meeting of doctors in Edinburgh, which voted in favour of a motion calling for a regulation system for managers, GP Dr Peter Holden criticised the way managers were operating in the health service.
He said there was a "culture of secrecy, covert bullying and gagging clauses".
"The result is the perfect toxic professional working environment for this explosive mixture to generate disaster such as Mid Staffordshire which did so much harm to patients."
He added: "We all know of managers who abuse Care Quality Commission and General Medical Council procedures to bully doctors."
Doctors also complained about the increasing pressures that were being placed on them.
Dr Brian Keighley, chairman of the BMA in Scotland, said: "Doctors report that they are facing relentless pressure in their day-to-day work just to keep up with the pace of demand and meet targets whilst maintaining the quality of care they believe their patients deserve.
"This increased intensity of work, unless managed, will lead to rising levels of stress and burnout amongst doctors."
The concerns come after the NHS has been embroiled in two high-profile scandals this year.
In February the Francis Inquiry - which looked into the failings at Stafford Hospital where patients died after neglect and abuse - accused the NHS of "betraying" the public by putting corporate self-interest ahead of patient care.
And last week senior managers at the CQC - England's healthcare regulator - were accused of a cover-up over the deaths of babies at a Cumbria hospital.