NHS error rate a silent scandal, says Jeremy Hunt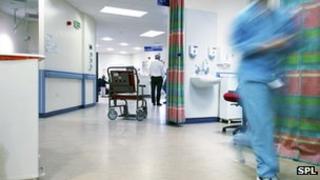 The NHS must tackle the "silent scandal" of errors which meant 3,000 patients died needlessly last year, Health Secretary Jeremy Hunt has said.
In a speech in London, he suggested the UK had become "so numbed to the inevitability of patient harm that we accept the unacceptable".
He also said the NHS had 326 "never events" - so unacceptable that they should never happen - in 12 months.
Labour has accused the government of "dithering" over patient safety.
Mr Hunt made his speech at University College London Hospitals against the backdrop of an alleged cover-up by health watchdog the Care Quality Commission over its investigation into baby deaths at Furness General Hospital in Cumbria.
He called for a change in NHS culture to reduce errors and injuries, saying that nearly 500,000 people were also harmed unnecessarily last year.
'Major rethink'
He said: "We have allowed ourselves to settle for levels of patient harm that are simply unacceptable.
"The facts are clear - last year there were nearly half-a-million incidents that led to patients being harmed, and 3,000 people lost their lives while in the care of the NHS.
"I pay tribute to the many NHS leaders who have refused to accept any level of patient harm as satisfactory or inevitable and are fighting hard to turn the tide.
"We must make sure this is reflected across the NHS. It is time for a major rethink - a different kind of culture and leadership, where staff are supported to do what their instincts and commitment to patients tell them.
"We must make sure that patients know where the buck stops and who is ultimately responsible for their care. And above all, we must listen more to NHS staff, so we can design systems that encourage them to act safely whatever pressures they face.
"I want the NHS to be the world's safest health system. It has all of the tools to do this, and I believe it should aspire to nothing less."
'Time to act'
Norman Williams, president of the Royal College of Surgeons, said any preventable harm to patients was "unacceptable".
"However rare these incidents are, never should mean never and avoiding such errors should be the priority of every surgeon," he said.
Shadow health secretary Andy Burnham accused the government of acting too slowly - and called on Mr Hunt to implement the recommendations of the Francis Report into the Mid-Staffordshire hospital scandal.
Mr Burnham said: "From where we are now, full openness and transparency is the only way for the NHS to go.
"My main message to Jeremy Hunt is this - stop dithering and get on with implementing the key recommendations of the Francis report.
"Labour would fully support the government if it followed Francis on duty of candour, the regulation of healthcare assistants and new benchmarks on safe staffing.
"After an in-depth, three-year inquiry the time has come to act."