Out-of-body virtual scenarios 'help social anxiety'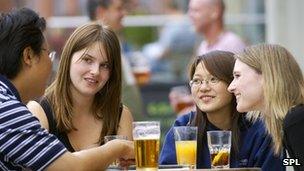 People suffering from social anxiety could be helped to overcome their fears by viewing themselves taking part in virtual scenarios, research from the University of East Anglia suggests.
New imaging technology allowed six participants to rehearse their behaviour in a range of social settings.
They were able to practise small talk and maintain eye contact, for example.
Researchers said it could be used with cognitive behavioural therapy.
UEA researchers created more than 100 different virtual scenarios, such as using public transport, buying a drink at a bar, socialising at a party, shopping, and talking to a stranger in an art gallery.
They then asked six young men recovering from psychosis who also have debilitating social anxiety to take part in the video scenes.
Dr Lina Gega, of the university's Norwich Medical School, said: "People with social anxiety are afraid that they will draw attention to themselves and be negatively judged by others in social situations.
"Many will either avoid public places and social gatherings altogether, or use safety behaviours to cope, such as not making eye contact.
"Paradoxically, this sort of behaviour draws attention to people with social anxiety and feeds into their beliefs that they don't fit in.
"We wanted to see whether practising social situations in a virtual environment could help."
The virtual environments encouraged participants to practise small talk, maintain eye contact and resist safety behaviour such as looking at the floor or being hyper-vigilant, she said.
When used as part of a course of therapy, researchers found that these virtual environments helped participants notice their anxious behaviour and change it.
They could also rehearse their behaviour over and over again.
As a result, participants were able to take greater social risks, the research found.
One participant said that his confidence about going to the pub and socialising with people "in real life" increased from 30% at the beginning of the first behavioural experiment to 50% at the end of the last experiment.
But another participant commented that the virtual experience was not "real" and seeing himself interact live on screen was unusual. He added that virtual environments were not as good as doing it in ''real life'' and that the whole experience was ''weird''.
The research is published in the journal Cyberpsychology, Behaviour and Social Networking.
Paul Strickland, of Xenodu, the company behind the virtual environment system, said it was designed to cater for the needs of socially anxious people.
"It isn't a head-mounted display, which anxious people may find uncomfortable.
"Instead, the user observes from an out-of-body perspective. They can then simultaneously view themselves and interact with the characters of the film."
Related Internet Links
The BBC is not responsible for the content of external sites.