Michael Stratton, cancer gene scientist, knighted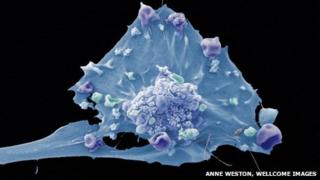 The scientist who identified one of the genes that causes breast cancer has been awarded a knighthood in the Queen's Birthday Honours.
Prof Michael Stratton's research on the Cancer Genome Project at the Sanger Institute has improved the diagnosis and treatment of cancer.
The bacteriologist Prof Hugh Pennington becomes a CBE.
Three nurses and three GPs have been appointed MBEs.
In addition to Prof Stratton, three other knighthoods have been awarded in the health sector.
Professor Andrew Hall, chair of the Joint Committee on Vaccination and Immunisation, is knighted for services to public health, and Professor Peng Tee Khaw, consultant ophthalmic surgeon at Moorfields Eye Hospital in London, also receives a knighthood.
His research into glaucoma has led to a safer surgery system that has been adopted round the world.
Stephen O'Rahilly, professor of clinical biochemistry and medicine at the University of Cambridge, has also been knighted for his research on the causes of human obesity.
Damehoods have been awarded to Prof Nicky Cullum, of the University of Manchester, for services to nursing research, and to Prof Anne Johnson, an expert in infectious diseases, of University College London.
Genetic clues
Prof Stratton is director of the Wellcome Trust Sanger Institute in Cambridgeshire. He founded the Cancer Genome Project to hunt for genes that cause different types of cancer.
In 1994, he and his team identified BRCA2, the breast cancer gene. This discovery has led to predictive tests for mutations in the gene, which are now routinely used by women worried about their inherited risk of breast cancer.
Since then Prof Stratton has broadened his search for genes that make people susceptible to many other cancers, such as in the lung and skin. His findings have been shared with researchers worldwide.
He said: "I am thrilled and surprised to be honoured in this way.
"My area of work, exploring the genomes of cancer cells, is in an extraordinarily exciting phase, and this honour in large part recognises the generous contributions of the many colleagues I have worked with in my career.
"Our research to understand the changes in DNA that drive cancer is a partnership of scientists, clinicians, sponsors and patients.
"We work in the knowledge that incorporating discoveries from cancer genomes into clinical practice is already improving the diagnosis, prevention and treatment of cancer, with much more to come."
Tracking bugs
Prof Hugh Pennington, emeritus professor of bacteriology at Aberdeen University since 2003, has been recognised for his services to microbiology and food hygiene.
He is renowned for his research on viruses such as flu and smallpox, but he is perhaps best known for chairing an inquiry into the outbreak of E. coli in central Scotland in 1996 and leading another inquiry into an outbreak of the bug in south Wales in 2005.
His research during his 30 years at Aberdeen focused on the development of new and improved fingerprinting methods for bacteria.
Prof Pennington said: "I'm lucky that the bugs I have been working on over the years have been important.
"As a bacteriologist there are always plenty of challenges to fight.
"This honour is a nice validation of my work."