Name surgeons who block performance data - Jeremy Hunt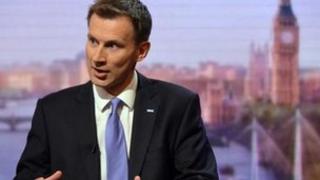 Surgeons who refuse to publish their performance data including mortality rates should be publicly named, the health secretary says.
Jeremy Hunt promised to take tough action after it emerged doctors could block the release of the information under the Data Protection Act.
League tables for 10 specialities are due to be published in England from next month.
Experts say there is a risk some consultants may be wrongly stigmatised.
The league tables on the NHS Choices website will cover about 4,000 surgeons, more than half of the workforce.
The move is being seen by ministers as a critical step in making the NHS more transparent.
The publication of surgery-specific data was first called for in 2001 by Prof Sir Ian Kennedy, who chaired the inquiry into the excessive number of deaths of babies undergoing heart surgery in Bristol.
Since then, only heart surgeons have published data down to an individual level.
Some doctors have been resistant to widening publication of data for nine surgical specialties and cardiology, as there is a fear that it may give a misleading impression.
Those doctors that take on the most difficult and complex cases may look to be performing worse, when in fact they could be the leading specialists in their field.
But while doctors can block the publication of the data to the public it does not mean the details, including mortality rates, are hidden from regulators.
'Proper risk adjustment'
So far 4% of surgeons contacted by NHS England have said they will exercise their right to block the release of the information.
Mr Hunt said: "Subject to proper risk adjustment of the data there can be no valid reason why it should not be published.
"In an era of public concern over patient safety issues this will be a major step forward in restoring public confidence."
Royal College of Surgeons president Professor Norman Williams urged doctors not to block publication of the data.
"Patients have a right to know of doctors who are not meeting the standards expected of them."
But he warned that naming surgeons who refuse to co-operate could prove problematic.
In particular he drew attention to the fact that as not every doctor was involved in the publication programme it could be difficult to identify which doctors were not co-operating.
The college says some surgeons have delayed giving their consent until they know the data is robust and say that patients would not want unreliable measurements published.