Is the NHS making any sense?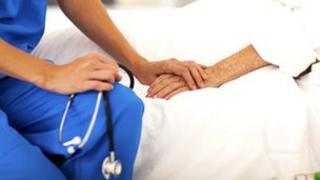 One minute hospitals are complaining they are being deluged with patients.
The next it is being argued services should be closed.
Confused? You're not the only one.
But while the two stances may seem contradictory, they are in fact part of a complex problem to which the NHS is struggling to respond.
Most experts agree that the future of hospital care should involve a lot of the most expert care being provided in centres of excellence where highly skilled doctors can provide the very best treatment.
This is the theory behind the drive to reduce the number of hospitals providing child heart surgery - the programme that was stopped in its tracks this week.
This is simply because care like child heart surgery is so difficult that surgeons - and the teams that support them - need a regular flow of patients to keep their skills sharp.
But since there are so few cases - about 3,600 a year - that requires care to be concentrated.
Complex
Similar arguments can be made for a host of other specialities.
In London, a major reconfiguration of stroke care has already been carried out which has seen the number of hospitals treating emergencies reduced from 30 to eight.
The changes are said to be saving 400 lives a year.
But of course not everything is so complex. The bulk of the work of the NHS is with patients who are not at immediate risk of dying - and instead the focus is on keeping them out of hospital.
About 70% of the NHS budget goes on people with long-term conditions, such as heart disease, dementia and diabetes.
These are diseases for which there is no cure. The aim of those helping care for them is to enable patients to manage their conditions as best they can.
But the problem is the NHS does not have such a good record on this - and so many end up in hospital because of crises.
This is one of the key factors behind the rise in visits to A&E units that have started causing such problems in the past few weeks.
To many the solution lies in investing in community services that will keep people well and independent.
That means ensuring there is a comprehensive nursing and social care service available to help people manage their conditions.
Hence the calls made by managers at last week's NHS Confederation annual conference to shift this sort of care out of hospitals and into the community.
But of course the result of centralising specialist hospital care, while attempting to ensure a large bulk of patients use hospitals less is that some services will have to go.
Royal College of Nursing chief executive Peter Carter acknowledges this is an argument the NHS is struggling with.
"It does seem counter-intuitive and that is perhaps one of the reasons we have to get better at explaining it.
"The problem is that because the case is not being put that well it is being viewed by the public as making cuts to save money.
"We need to get a lot better at explaining it. Last year when the footballer Fabrice Muamba collapsed on the pitch with cardiac arrest he wasn't taken to the nearest hospital.
"He was taken past that to a specialist centre and that probably saved his life. We should be using stories like this to put the case, but we aren't."