Surgeons 'can block performance data'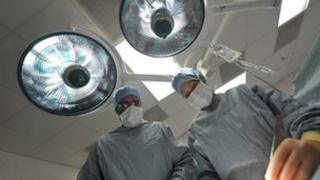 Surgeons will be able to block the planned publication of data on their individual performance, it has emerged.
League tables for 10 specialities, including vascular and orthopaedic surgery, are due to be published in England this summer.
Such detailed information is currently published on heart surgeons only.
But NHS leaders have now said Data Protection Act rules prevent them from requiring any surgeons to release individual information.
The publication of surgery-specific data was first called for in 2001 by Prof Sir Ian Kennedy, who chaired the inquiry into the excessive number of deaths of babies undergoing heart surgery in Bristol.
Since then, only heart surgeons have published data down to an individual level.
Some doctors have been resistant to widening publication of data, as there is a fear that it may give a misleading impression.
Those doctors that take on the most difficult and complex cases may look to be performing worse, when in fact they could be the leading specialists in their field.
NHS England said so far 4% of surgeons had said they did not want the information disclosed - although this does not mean the data is hidden from regulators which investigate cases where performance is outside of the normal range.
A spokeswoman said: "We urge all consultants to think very carefully about the effect on their patients and their colleagues if they chose to opt out on the basis of legislation designed to protect personal data."
But she added: "The experience with the publication of cardiac data strongly suggests that consultant surgeons who do feel uncomfortable quickly come on board when they see the enormous benefits publication brings to their patients and to themselves."
A Department of Health spokesman said if there were any legal grounds for surgeons not participating in the league tables, patients and their families would be entitled to ask why and might prefer their operation to be carried out by someone who was "prepared to be fully transparent".
The spokesman said: "Patients should be able to see how individual senior doctors are performing. That principle has been agreed for many years and has been successfully implemented in cardiac surgery."
The Royal College of Surgeons said: "We see this as a watershed moment for the profession and strongly urge surgeons to take part in this important initiative."