Wrist sensor may be better measure of blood pressure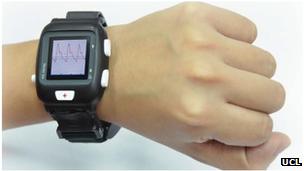 A new device could improve how blood pressure is measured, according to NHS researchers.
A team at University College London showed a sensor worn on the wrist could measure the pressure of blood leaving the heart throughout the day.
Normally blood pressure is measured in the arteries in the arm, but the pressure at the heart might be a better predictor of future health problems.
If blood pressure is too high it can lead to heart attacks and stroke.
About a third of people in the UK have hypertension, dangerously high blood pressure, but most are unaware of the condition.
A team at the NHS National Institute of Health Research (NIHR) trialled the sensor, which contains a mini-plunger that moves up and down as blood pulses past with every heartbeat.
A computer program in the wrist strap used this "pulse wave" to work out the pressure in the heart. This was compared with measures taken from sensors in patients' hearts.
"It was remarkably accurate," said Prof Bryan Williams, the director of the NIHR University College London Hospitals Biomedical Research Centre.
Guidelines in the UK recommend that blood pressure is measured at home over the course of 24 hours before drugs for hypertension are prescribed.
Prof Williams said: "What we have shown is that pressures by the heart do not dip as much during sleep as we previously thought.
"We know the pressure when someone is asleep is a strong predictor of heart disease. This [the device] almost certainly gives a better measure than blood pressure in the arm.
"This is not mainstream, but in the future you could see people having their central blood pressure measured instead of in the arm."
Clinical trials will now test whether using the device leads to better diagnoses.
Amy Thompson, senior cardiac nurse at the British Heart Foundation, said: "It's still early stages for this new measuring device, but advances in technology could lead to better prevention and treatment of high blood pressure in the future.
"The only way to know if your blood pressure is high is to have it measured. The easiest way to do this is by visiting your GP surgery.
"However, blood pressure fluctuates throughout the day depending on what you're doing, and if it's found to be high you may need to have it tested several times."