Measles catch-up jabs sent to GPs
By James Gallagher
Health and science reporter, BBC News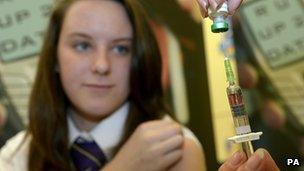 More than 200,000 extra doses of the MMR vaccine have been ordered by GPs in England as the government aims to vaccinate one million children at risk of measles.
Public Health England said there were 288 new cases of measles in April, bringing the yearly total to 962.
The catch-up campaign is targeting those who were not given two MMR jabs.
In Wales, more than 60,000 children have been given the jab in order to curb the outbreak in Swansea and Powys.
Measles vaccination rates across the UK fell in the late 1990s and early 2000s after now discredited claims of a link between the MMR jab and autism.
It led to a generation of school children who are vulnerable to the infection.
In 2012, there were nearly 2,000 cases of measles in England - the highest figure for nearly two decades.
Of the 962 cases this year, more than half were down to outbreaks in Teeside and Greater Manchester.
The catch-up campaign aims to immunise the third-of-a-million completely unprotected children aged 10 to 16 and a further 660,000 children who had only the first of two MMR jabs or are in different age groups.
Dr Mary Ramsay, head of immunisation at Public Health England, said: "Our ambition is to vaccinate 95 per cent of 10-16-year-olds at risk in time for the next school year and so the number of extra doses ordered by most GP practices is very encouraging.
"The message to parents who think their child may not be fully immunised is to check today and book an appointment with your GP. The vaccine is there waiting to be used and could save your child's life."
Measles is a highly contagious disease. Symptoms include a high fever and a rash. In one in 15 cases it can lead to severe complications, such as pneumonia and inflammation of the brain, and can be fatal.
How many children have actually been vaccinated as part of the catch-up campaign is not yet known. The first figures are expected next month.
Prof David Salisbury, director of immunisation at the Department of Health, said: "The best way to beat measles is to protect people before measles catches them.
"It's encouraging that GPs have taken up the challenge wholeheartedly and ordered almost a quarter of a million extra doses of MMR, so we know they are ready to vaccinate people."