Coronavirus death reported in France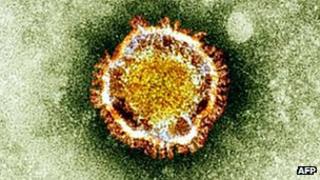 A patient infected with the novel coronavirus has died in France, according to the health ministry.
The virus, which is similar to those which cause Sars and the common cold, emerged last year.
Out of 44 confirmed cases around the world, 23 people have now died with most infections linked to travel to the Middle East.
The virus causes pneumonia and, sometimes, organ failure. Most patients have had other health problems.
The 65-year-old, who had been travelling in Dubai, died in hospital on Tuesday.
Another patient who shared a hospital room with the man has caught the infection.
Concern?
Cases have been reported in Jordan, Qatar, Saudi Arabia, the United Arab Emirates, France, Germany, Tunisia and the UK.
Half of the 44 cases reported have been in Saudi Arabia.
In a statement earlier in May the World Health Organization said: "The greatest global concern, however, is about the potential for this new virus to spread.
"This is partly because the virus has already caused severe disease in multiple countries, although in small numbers, and has persisted in the [Middle East] region since 2012.
"Of most concern, however, is the fact that the different clusters seen in multiple countries increasingly support the hypothesis that when there is close contact this novel coronavirus can transmit from person to person."
In February, a patient died in a hospital in Birmingham, in the UK, after three members of the same family became infected.
It is thought a family member had picked up the virus while travelling to the Middle East and Pakistan.
Prof Ian Jones, a virologist at the University of Reading, said the death was tragic, but the risks of infection were low.
"It is very rare and apart from the unusual circumstances of very close containment with already hospitalised persons, it does not seem to transfer among people.
"As a result, the overall risk remains very low and the most pressing need is to identify where the virus is coming from so that these occasional infections can be prevented."