Asthma hospital admission rates vary 'alarmingly'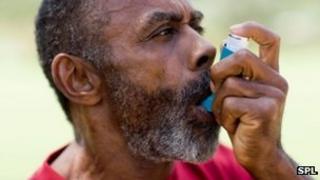 There are "alarming variations" in the number of people with asthma admitted to hospital in an emergency, depending on where they live, says Asthma UK.
Figures for 2010-11 in England show that the admission rate for children in Liverpool was 19 times higher than in Tower Hamlets.
Adult hospital admission rates also varied widely across England.
The charity said good care and management of the condition could prevent three-quarters of admissions.
It has launched the Compare Your Care campaign to find out which parts of the country are offering good quality asthma care and which are lagging behind.
The figures, from the NHS Atlas of Variation: Respiratory Disease, show that the highest rate of adult emergency hospital admissions for the disease in England - 193 per 100,000 of population - was found in the London borough of Newham.
That rate was over six times higher than in Bromley, in London, at 30 per 100,000 people.
In children, aged up to 17 years, the disparity between a rate of 732.6 in Liverpool and 38.7 in Tower Hamlets was even greater.
Around one in 11 children and one in 12 adults in the UK suffers from asthma.
Emily Humphreys, head of policy and public affairs at Asthma UK, said the number of people being rushed to hospital with an attack could be reduced.
"Quality of asthma care is of paramount importance - we estimate that 75% of hospital admissions could be prevented with the right care and management.
"For example, people who don't have written asthma action plans are four times more likely to be hospitalised."
According to national guidelines, every sufferer should receive a written plan from their doctor or asthma nurse so they know what steps to take when their symptoms get worse.
However, only 12% of people with asthma actually have one, the charity says.
It also says sufferers should have a review at least once a year, yet one in five patients has not been invited to have an annual check-up, it says.
The charity's Compare Your Care campaign asks people with asthma to complete an online quiz and rate the care they receive where they live.
"By building a picture of where care is meeting national standards and where it may be falling behind, we'll be able to see if that explains the huge geographical variation in hospital admissions," said Ms Humphreys.
The responses will allow Asthma UK to help people with asthma demand better care in order to meet the national standards.