'Shingles left me with years of pain'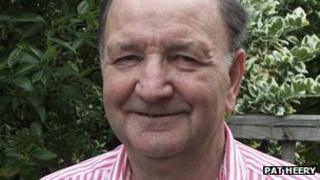 The UK is rolling out a new vaccination campaign to protect people in their 70s against shingles.
While rarely a lethal condition, it's easy to underestimate how debilitating the disease can be.
Shingles is caused by the same virus as chickenpox.
But unlike this mild childhood condition, which typically vanishes after a few itchy weeks of living with a rash, the effect of shingles can linger for years, as 83-year-old Pat Heery has found.
"It was six years ago that I got shingles," he said. "Blisters started to appear on my skin and I got myself to the doctor quick to see what they could do.
"The GP gave me an injection of antiviral and that was fine and helped with the blisters, but then the pain started."
Chilli paste treatment
Mr Heery, from Putney, south-west London, says it was excruciating.
"To say it was uncomfortable is too mild a word for it. Searing pains were shooting down the right side of my body.
"At first I couldn't even bear to wear anything because if any clothing touched my skin it made it worse."
Mr Heery had developed a complication of the disease, a nerve condition that doctors call postherpetic neuralgia (PHN).
For some, this eventually clears up after some months.
But six years on, Mr Heery is still in pain.
"I have tried everything - drugs, physiotherapy and acupuncture.
"My doctor even sent me to St Thomas' Hospital for qutenza capsicum patches. That involved covering my side with a paste of this chilli capsicum. It didn't work."
Mr Heery says he has also tried alternative medicines such as Australian Bush flower Essence, recommended to him by other people with PHN. Nothing has worked.
"I'm in pain every day. It comes and goes a bit, but it's still there.
"Doctors can only recommend various things that normally work for pain. Unfortunately, nothing has worked for me."
As many as 20% of people with shingles develop PHN.
Vaccinating people in their 70s will prevent many cases of shingles and, in turn, PHN.
Mr Heery said: "I would certainly have had the vaccine had it been available to me."
From September, people will be offered the shingles jab at ages 70, 78 and 79, depending on where they live in the UK.