Brain implant 'predicts' epilepsy seizures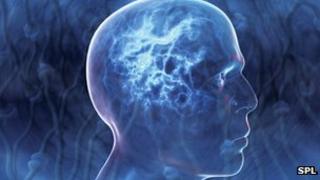 A brain implant may be able to predict epilepsy seizures by picking up the early warning signs, a small study suggests.
The device uses the brain's electrical activity to tell patients if their risk of a seizure is high, moderate or low.
The study on 15 people, published in the Lancet Neurology, showed the device worked in some patients.
The charity Epilepsy Action cautioned that it was still early days, but said it could be an "exciting development".
Epilepsy is thought to affect 50 million people worldwide. Abnormal activity in part of the brain causes seizures involving involuntary shaking.
Independence impact
Signals were collected from the surface of the brain and sent down wires to another implant in the chest. This beamed the data to a hand-held device which worked out the odds of a seizure.
The trial was run at three hospitals in Australia and was funded by the manufacturers NeuroVista.
The results were mixed. For the first four months the brain was monitored so the system could learn a patient's brainwaves before a seizure.
Only eight patients then progressed to the stage where the device was fully activated and they were constantly informed of their chance of a seizure. It was between 56% and 100% effective in those patients.
Prof Mark Cook, from the University of Melbourne, said if the technology could be proven if could help remove the unpredictable nature of epilepsy.
He told the BBC: "Being able to predict the events with many minutes or hours lead time could have significant impact on independence.
"This could change the way the illness is treated. For instance, our current strategy of giving medications continuously because of the unpredictable occurrence of events could alter the types of medications being developed.
"Short-acting therapies may prove to be effective without subjecting patients to the long-term problems that currently available therapies may cause."
'Useful tool'
Commenting on the findings, Christian Elger and Florian Mormann, from the University of Bonn medical centre, described the results as "a major milestone... showing for the first time, to our knowledge that prospective seizure prediction is possible".
They added: "Whether this performance is also sufficient for clinical applications is unclear, this will depend on how well patients tolerate false alarms or missed seizures."
Simon Wigglesworth, deputy chief executive of Epilepsy Action, said more research was needed, particularly given the "small sample size and the inconsistencies in the data collected".
"If a person is able to be alerted when they are about to have a seizure, this could help them to take steps to make sure they are safe during the seizure. The device could also be a useful tool for carers of people with epilepsy," he said.
"Predicting seizures may help us to understand more about the ways seizures can be managed and ultimately prevented."