Data-sharing 'good for patients'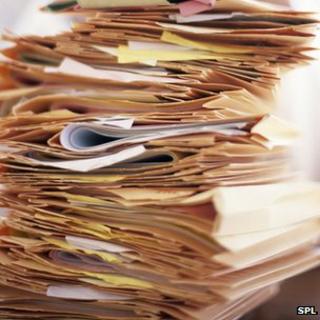 The NHS must share patient data more effectively to ensure that people undergoing treatment receive the optimum care, Health Secretary Jeremy Hunt has said.
He was responding to the publication of the Caldicott review, an analysis of how the NHS in England treats data.
It calls for the NHS to share information more effectively, but also for patient confidentiality to be respected,
Doctors' leaders welcomed the report.
'Opt-out'
Mr Hunt said: "Most NHS users would be astonished that information doesn't flow around the system.
"In many hospitals the IT systems aren't even linked within a hospital, let alone between hospitals and other parts of the health economy."
The Caldicott Review cited a "culture of anxiety" in the health and social care sector about sharing data, meaning health professionals do not pass on information that could improve someone's care.
But it said sharing appropriately should be "the rule, not the exception".
However the review also suggests there should be better monitoring and control of who has access to records, and that what people see should be limited to what is necessary for them to provide good care.
And while the NHS uses patient data to plan care at local and national levels, Mr Hunt said patients could opt out of their GP records being shared with the Health and Social Care Information Centre, which collates statistics for the NHS.
Controls
The review says patients should be able to see any records held on them, the review adds, whether that is in hospitals or the community.
Dame Fiona said she had heard "great frustration" from patients who had experienced problems accessing their own records.
The report applies to the NHS in England, but she said many of its recommendations would apply to the whole of the UK.
Dr Tony Calland, head of the BMA's ethics committee, said: "Confidentiality is the cornerstone of the doctor/patient partnership and we must do all we can to safeguard it."
He said that when patient data was used for research there had to be "strict controls" which were "scrupulously adhered to and regularly audited by an independent body".