NHS bosses ponder hospital hotels to ease ward pressure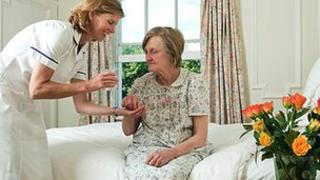 Plans for hospital hotels to care for patients who no longer need 24-hour medical care are being considered by NHS managers.
Under the proposals, patients such as the elderly waiting to be discharged, new mothers and stroke patients would recover in hotel-style facilities.
The idea is being reviewed by the new commissioning body, NHS England.
Supporters say the scheme, based on a Scandinavian model, would ease demand on hospital beds.
Patient hotels are common in Scandinavia, especially in Sweden and Norway.
They cater for patients who do not need to be on an inpatient ward, such as couples staying overnight after the birth of a baby or recovering stroke patients.
As well as offering more freedom for patients, the buildings are designed to save money, since a hotel room is cheaper than the price of a hospital bed.
The issue has been investigated by Baroness Greengross, a cross-bench peer.
A Department of Health spokeswoman said: "Proposals for health hotels were submitted to the department by Baroness Greengross. Ministers have forwarded the proposals to NHS England so they can review them."
NHS England is the new body responsible for overseeing the commissioning of services by local doctors.
An estimated 30,000 patients each year are kept in hospital despite being well enough to be discharged.
They include elderly patients waiting for a place in a nursing home or those with dementia.
Some UK hospitals already provide accommodation for patients who need to stay close to hospital premises but do not need constant medical care.
University College London Hospitals (UCLH) provides hotel rooms where patients, such as those needing daily cancer treatment, can stay with relatives near to the hospital.
UCLH says the cost, which is paid for by the NHS, is cheaper than 24-hour hospital care.
According to figures from 2010, the cost of keeping a patient in a hospital bed overnight is more than £300 compared with around half that for a hotel room.
Commenting on the proposals, Candace Imison, The King's Fund's deputy director of policy, said:
"The patient hotel concept offers advantages to some types of patient, such as those who receive cancer treatment a long distance from home.
"But it may not be appropriate for all patients, and it is important to ensure that it is used only where most clinically and cost effective."