Q&A: Cosmetic review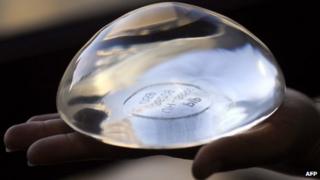 Cosmetic procedures from injections that plump up the skin to breast enlargement have come under intense scrutiny.
A report for the Department of Health in England warns a lack of regulation has led to a "crisis waiting to happen".
It has also attacked companies for putting profits before patients.
What counts as a cosmetic procedure?
It includes surgery to change the physical appearance of the body such as breast enlargement, tummy tucks and nose jobs. But there are also non-surgical interventions such as Botox to tighten the skin and remove wrinkles, dermal filler injections to plump up the skin and laser treatment to remove hair.
The whole industry was worth £2.3bn in the UK in 2010, but the money is in non-surgical procedures - it accounts for nine out of 10 procedures and 75% of the market value.
Why are they being reviewed?
There was a global health scare surrounding breast implants made by the French firm Poly Implant Prothese (PIP). The firm's products were banned in 2010 after it emerged the implants were filled with industrial grade silicone and had double the rupture rate of other implants. About 300,000 women in 65 countries are believed to have received PIP implants.
It put the industry under the spotlight. In the UK there were issues with private companies not being able to give details of which women they had given PIP implants. The way cosmetic surgery was sold also came under intense scrutiny and concerns were raised about non-surgical interventions, which are subject to very few regulations?
Are cosmetic procedures risky?
Broadly speaking no, but there are dangers. Cosmetic surgery is still surgery and carries similar risks such as of infection. Implants can also rupture in the longer term.
Even non-surgical procedures can go wrong. There are examples of people being blinded in one eye after dermal fillers or of the filler migrating or becoming lumpy. Burning or scarring of the skin can happen during laser hair removal.
There is an added risk of disappointment if the procedure does not produce the desired effect.
Who can carry out these procedures?
One of the overriding concerns of the report is that it is too easy, with too little checks to carry out procedures from surgery to fillers.
Fillers can be performed by anyone, even with no training. Botox should be prescription only, but the rules seem to be openly flouted. And for cosmetic surgery there is no formal qualification or list of competences which must be passed on top on medical training. It is why the government is concerned that it is far too easy for "cowboys" to set up business.
Are dermal fillers really regulated like toothbrushes?
Yes. European Union rules classify breast implants as "medical devices" - the same category as pacemakers and heart valves. Botox is a medicine and is prescription only.
Both have tight regulations, however, a large range of items used in the cosmetic procedures do not fall under these categories.
Calf and buttock implants as well as dermal fillers are deemed to have no medical purpose so are regulated at a much broader level - in a similar way to ball-point pens and yes, toothbrushes.
What has been recommended?
The review recommends:
Legislation to classify fillers as prescription only
Formal qualifications for anyone who injects fillers or Botox
Register of everyone who performs surgical or non-surgical cosmetic interventions
Ban on special financial offers for surgery
Formal certificate of competence for cosmetic surgeons
A breast implant register to monitor patients
Patients' procedures must be approved by a surgeon not a salesperson
Compulsory insurance in case things go wrong
A pooled fund to help patients when companies go bust - similar to the travel industry
Will anything actually change?
This is just a report containing a raft of recommendations, even if it was commissioned by the Department of Health in England.
There is no obligation to adopt any of the recommendations in England or in the other devolved nations, where the findings are also being passed onto ministers.
The Health Minister for England, Dan Poulter, says he agrees "entirely" with the principles of the recommendations.
The government's plans are expected in the summer. However, some of the proposals would require legislation. It means that even if they are adopted, the parliamentary timescale means new laws would probably take until 2014 at the earliest.