Is nurse training plan a stupid idea?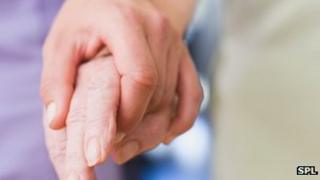 In theory, it sounded like a good idea. With nurses being criticised for not being caring or compassionate enough, ministers came up with what they thought was a simple solution: get them to spend a year doing the basics by working as a healthcare assistant before embarking on their three-year degree.
But in practice the problem is not so easy to resolve. When asked about the proposal on the eve of the Royal College of Nursing's annual conference, the union's president could not hide her contempt.
Andrea Spyropoulos branded it a "stupid idea" which would waste taxpayers' money and, in all likelihood, never see the light of day.
Divisive
The government though seems determined to dig its heels in. It says it will be proceeding with the pilots and launched its own attack on the RCN, claiming they had not yet satisfactorily answered the criticisms aimed at the organisation by the Stafford Hospital public inquiry.
But why has one proposal provoked such anger? For nurses, it is simple. They feel they are being unfairly targeted as they believe the implication is that they are motivated to become a nurse for the wrong reason.
There were 290 recommendations made by the Stafford Hospital public inquiry. Making nurses work for a year before they can even start training was not one of them.
Instead, it was the idea of government and announced as part of its package of measures in response to the public inquiry.
There has also been a lack of detail about how it will work.
Nurses already spend half of their three-year degree working on placements. Will this year as a healthcare assistant count towards that?
There is also a question mark over whether the work will need to be completed before applying, which would mean over 200,000 people working as healthcare assistants, or once someone has gained a place on a course, which would require 20,000 posts to be found.
The Department of Health has been quick to counter that all this needs to be teased out during the piloting of the initiative, which could start later this year.
Unnecessary?
But that does not seem to be convincing delegates at the nursing conference.
Gavin Wollacott, who has just finished his training and is now working in the East Midlands, says: "I worked as a healthcare assistant for 10 years and that stood me in good stead.
"But that does not mean everyone needs to. You could end up excluding lots of really talented people."
Elinor Durston, who is in her final year of training, agrees. "The only caring experience I have is that I looked after my dying mother. But I am really motivated about caring for people.
"I have done all sorts of placements during my training - in the community, in hospital and in mental health. What really matters is the quality of the mentoring you get during that."
However, away from the tribalism of the conference some do believe the idea has merit.
Southampton University expert Peter Griffiths, one of the leading nursing academics, admits there are lots of unanswered questions, but he believes if the government gets it right it could help improve the quality of nursing.
"If the work experience was properly integrated with nurse training and served to provide an extended opportunity for hands on care that would be something that was strongly welcomed by many in the profession."