Tameside is UK's heart disease capital, figures show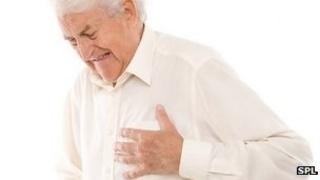 There are "staggering inequalities" in deaths from heart disease in different parts of the UK, says a heart charity.
The British Heart Foundation said Tameside in Greater Manchester had the highest death rate at 132 per 100,000 people - three times higher than Kensington and Chelsea in London.
Ballymoney in Northern Ireland and Glasgow had the second and third highest death rates.
But overall numbers of heart attack deaths fell in all areas.
The figures, which represent average death rates for the three years from 2009 to 2011, showed that people who live in Tameside are more likely to die from coronary heart disease than anywhere else in the UK.
The BHF reported that there were 129 deaths from heart disease per 100,000 people living in Ballymoney and 128 per 100,000 people in Glasgow.
In the London borough of Kensington and Chelsea people were found to have the healthiest hearts with just 39 deaths per 100,000 from heart disease.
The charity released the figures as part of its Fight For Every Heartbeat campaign.
Health gap
Professor Peter Weissberg, the charity's medical director, said it was unacceptable that people continued to die from heart attacks, regardless of their postcode.
"Coronary heart disease is not beaten yet - it remains the single biggest killer in the UK," he said.
"We urgently need the nation to unite behind our quest to fund research to eradicate this deadly disease wherever it strikes."
Yet, despite differing death rates across the UK, there was a fall in heart attack rates across all areas.
Sir Michael Marmot, professor of public health at University College London, has written a government report about health inequalities in England.
Speaking on the Today programme, he said some progress had been made, but not enough.
"Heart disease rates have come down, that's a very welcome societal achievement. But they've come down at about the same rate in peoples at all levels of deprivation - so the gap has not narrowed."
The Health Minister Anna Soubry said the government's efforts to devolve some health decisions to a local level is helping to tackle the problem.
"I think that moving public health down to the local authorities is absolutely the right thing to do, because local authorities know what's best in their areas," she explained.
Professor Peter Weissberg said the aim of the BHF's campaign was to eradicate coronary heart disease by understanding its biology and by carrying out research to get at the fundamental cause.