Atos manager says she is 'sorry' if mistakes are made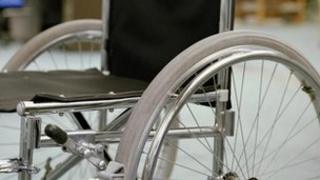 The company carrying out controversial 'fit for work' tests on disabled people has apologised for any mistakes made.
Lisa Coleman, who oversees Atos's contract with the Department for Work and Pensions gave her first media interview to BBC Radio 4's You and Yours.
'If we get something wrong then I'm very happy to say sorry,' she said.
She added the process could be stressful, but blamed some of this on 'misinformation'.
Interviews
ATOS is contracted on behalf of the DWP to carry out Work Capability Assessments for people applying for the sickness benefit Employment and Support Allowance (ESA), as well as people who were on Incapacity Benefit.
The company says it carried out one million face-to-face interviews last year, at a rate of more than 11,000 per week. It employs around 1,400 doctors, nurses and physiotherapists.
Assessors have been accused of making too many mistakes and assessing people as fit for work when they are not, and many disabled people claim to have been wrongly turned down for ESA.
Campaigners say some people have died soon after being assessed as fit for work, and some have committed suicide.
She told the programme: "There is an awful lot of misinformation out there. That concerns me. People are very afraid, very scared, very worried, when they come and have an assessment. We are required to treat people with compassion and care."
Ms Coleman denied that appeals were the result of bad assessments saying: "Absolutely not. (The National Audit Office) said it's a very dangerous assumption to assume that (all) appeals are overturned because of the ATOS report. Only three in 1,000 are to do with the ATOS report."
She added her company did not have the final say on whether people were fit for work, adding that it lay with the decision-makers at Job Centre Plus.
When asked how she thought the company was doing, she said: ''I think we are meeting the requirements of the contract. There are always things we can do to improve our service, and we are very open to getting feedback from people.''
She described as "clearly worrying" emails from listeners who said they had been sent five medical forms, and others who were not provided with special seating, or accessible car parking.
Targets
Asking for their details to be passed on, she said that ATOS looked at every complaint individually and had made improvements.
She denied that ATOS had targets to meet for taking people off benefit, and that the only targets they had to meet were around 'quality'.
Work Capability Assessments were introduced in October 2008 under Labour. They were retained by the Coalition government, but ministers admitted they were not fit for purpose.
Prof Malcolm Harrington, an occupational health specialist, was appointed to produce three independent reviews. He stood down last year, but many of his recommendations have been implemented by the government.
ATOS is paid £110 million pounds per year and has recently had its contract with the DWP renewed until 2015.
It has also been awarded a DWP contract (together with Capita) to assess claimants for the new Personal Independence Payment (PIP) which is replacing Disability Living Allowance for disabled people.
However it has come under fresh criticism for sub-contracting some of that work to the NHS and private companies.
The DWP says just over half the 1.5 million people on Incapacity Benefit have now been reassessed for Employment and Support Allowance.