China: Four more infected with H7N9 bird flu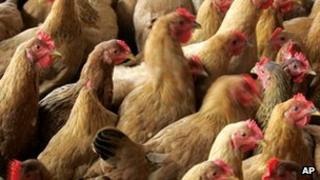 A further four cases of a bird flu virus not previously seen in humans have been reported by authorities in China.
Three women aged 32, 45 and 48, and an 83-year-old man were diagnosed between 19 and 21 March and are critically ill.
There have now been seven confirmed cases of the H7N9 virus, the World Health Organization said. Two people have died.
But the WHO says there is no evidence of human-to-human transmission.
However more than 160 people who have had contact with the individuals are being closely monitored.
So far, none has developed symptoms.
The latest cases were seen in the Jiangsu province while the earlier cases were in the Shanghai and Anhui provinces.
Two contacts of one of the Shanghai cases who developed symptoms are being retrospectively investigated.
One died and the other recovered, but as yet there has been no laboratory confirmation of whether they were infected with H7N9.
Hygiene measures
The Chinese government has increased disease surveillance, infection prevention and control and communication between human and animal health and industry sectors.
It has advised the population to maintain good personal hygiene, including frequent hand-washing and avoiding direct contact with sick or dead animals.
The WHO is not recommending any travel or trade restrictions.
Dr John McCauley, Director of WHO Collaborating Centre on Influenza at the MRC National Institute for Medical Research, said: "The virus belongs to the A(H7N9) sub-type, a sub-type that has not previously infected humans, and has emerged from the reservoir of avian influenza viruses.
"It is not known how the virus was transmitted.
"By identifying the source of infection, measures can be taken to reduce human exposure.
"The Chinese Center for Disease Control and Prevention is investigating whether there has been any human-to-human transmission."
Tests suggest the virus could be treated with the anti-influenza drugs Tamiflu and Relenza.