NHS satisfaction 'stabilising after record fall'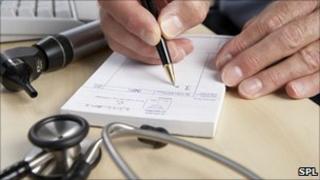 Public satisfaction with the NHS appears to have stabilised following a record fall, according to the British Social Attitudes Survey.
The poll of more than 1,100 people in England, Wales and Scotland last year found satisfaction with the way the NHS was run stood at 61%.
This followed a record fall from 70%, in 2010, to 58% in 2011.
The drop coincided with the first year of the spending squeeze and controversy over reforms in England.
The 2012 survey, conducted by NatCen Social Research, found that 74% were satisfied with GPs while just 30% were satisfied with social care.
A total of 59% said they were satisfied with A&E units and 56% were satisfied with dentists, it found.
'Appalling care'
Prof John Appleby, of the King's Fund think tank, said the poll was an "important barometer".
"With no real change in satisfaction with the NHS in 2012, this suggests the fall in 2011 was not a blip and that the ground lost may take some time to recover," he said.
Patients Association chief executive Katherine Murphy said it was important to "look beyond statistics and properly assess patient experience".
"People are still contacting our helpline every day to tell us that they or a loved one is receiving the most appalling care in hospital.
"These serious issues need to be tackled and the government needs to monitor closely the impact of its reforms."
A spokesman for NHS England, the new national board which oversees the health service, said: "The changes which have been implemented put patients at the centre of everything the NHS does.
"We are committed to providing the best services possible for patients in England."