Love letters and kindness may improve mental health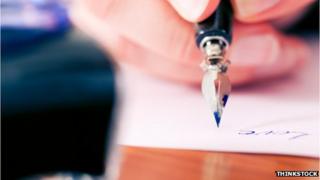 "You matter to me. In a way I cannot explain, you matter to me. And you, you are a marvel... you and all the parts of you."
It's not the kind of thing you normally write to a complete stranger.
But after graduating from college and moving to New York City, Hannah Brencher was feeling anxious and depressed. She found herself not wanting to be around other people and "just really unravelling".
Then she started writing love letters to strangers and leaving them all over the city. The first letter she left on a train simply addressed: "If you find this letter then it's for you."
Since then she has left letters in libraries and cafes, and even hidden them around the United Nations building.
"What I noticed was that my sadness and loneliness got backburnered," she told the BBC. "I found something that allowed me to take the focus off of myself."
Unexpected kindness
Hannah and her More Love Letters campaign are part of a growing number of organisations shouting about the beneficial effects of random acts of kindness for givers as well as receivers.
It might sound a bit like new-age nonsense to some people, but new research suggests being kind might actually be good for your mental health.
A study published in the journal Emotion reports that performing acts of kindness may help people with social anxiety to feel more positive.
Dr Lynn Alden and Dr Jennifer Trew, from the University of British Columbia, asked volunteers with high levels of social anxiety to commit multiple acts of kindness on two days a week over a four-week period.
"Sometimes people would give a small gift to somebody, or picking somebody up from work, visiting sick people, thanking a bus driver. They were actually fairly small acts," explained Dr Alden.
They were small acts perhaps, but ones which had a much bigger impact.
Challenging beliefs
More standard treatment for social anxiety disorder is cognitive behavioural therapy (CBT) adapted specifically for people who fear they will do or say something embarrassing in a social situation.
As part of this therapy patients are encouraged to face their fears about social contact, by putting themselves into a situation they would normally avoid or initiating conversation with new people.
In Dr Alden's experiment a comparison group of anxious volunteers were asked to perform small "belief-challenging" tasks similar to these therapeutic ones.
Just like the kind acts group, this group were also increasing their levels of social contact, engaging in unfamiliar behaviour, and paying attention to others' responses; all things which have been suggested to be important components in overcoming social anxiety.
At the end of the four weeks, participants in the kind acts group avoided social situations less and also reported increased relationship satisfaction. Performing kind acts appeared to have a bigger effect than CBT-like behaviour tasks.
Dr Nick Grey, consultant clinical psychologist and clinic director at the Centre for Anxiety Disorders and Trauma in London, was initially wary of the idea that performing kind acts might have therapeutic value for patients with anxiety disorders.
"I hadn't seen the paper and I was sceptical from the title to be honest. But it's a good paper and comes from a well-respected team.
"I don't think that's ever going to be a therapy in and of itself, but it could well be the kind of activity that could be integrated as part of a broader treatment."
Dr Alden suggests that acts of kindness might be an initial step in a longer therapeutic pathway.
"Engaging in kind acts may help the person to get out and encounter other people and then we can use other techniques to help the person change their beliefs about themselves."
But she urges caution about performing acts of kindness chosen by someone else or just to impress others.
"I think it has be done in such a way that the individual has a sense of autonomy. They are performing the act because they want to and not because it's required by the group."