'Visionary' leadership needed on TB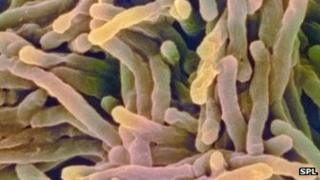 Plans to tackle tuberculosis are failing and a new visionary approach is needed, according to an international group of doctors and scientists.
There is mounting concern that a rise in "virtually untreatable" tuberculosis poses a threat to countries around the world.
Writing in the Lancet medical journal, the group said governments were "complacent" and "neglectful".
It called for countries to do more to tackle the problem.
The World Health Organization says nearly nine million people become sick and 1.4 million die from tuberculosis each year.
Resistance
Some countries are facing problems with drug resistance, with many first-choice antibiotics no longer working against some strains of the tuberculosis bacterium.
It is particularly acute in some parts of eastern Europe and central Asia, where up to a third of cases can be multi-drug resistant, known as MDR-TB.
The number of laboratory-confirmed cases of MDR-TB around the world has gone from 12,000 in 2005 to 62,000 in 2011. However, the real figure is thought to be closer to 300,000.
An even more stubborn version, resistant to more antibiotics, is called extensively drug-resistant tuberculosis and has been detected in 84 countries.
"With ease of international travel, and increased rates of MDR tuberculosis in eastern Europe, central Asia, and elsewhere, the threat and range of the spread of untreatable tuberculosis is very real," the report said.
It argued that countries had spent decades being complacent in their response to the infection and that a "major conceptual change and visionary global leadership" were needed.
"To prevent further cases of multi-drug-resistant and extensively drug-resistant tuberculosis, a radical change in political and scientific thinking, and the implementation of specific measures worldwide, are needed.
"The global economic crisis and reduced investments in health services threaten national tuberculosis programmes and the gains made in global tuberculosis control."
Tackling poverty
One of the report's authors, Prof Alimuddin Zumla, said: ""It's a growing problem in London and a huge, huge problem in Europe - it's in our backyard at the moment."
However, he warned there was "no overnight solution" for tuberculosis.
He said many of the necessary tools, such as antibiotics, had already been developed, but the challenge was using them appropriately in often poor countries.
Prof Zumla argues that Europe overcame tuberculosis by tackling poverty; however, "that's an ideal that I don't think is going to happen [for the rest of the world]", he said.
Dr John Moore-Gillon, a medical adviser for the British Lung Foundation, told the BBC: "They are not scaremongering this at all.
"Tuberculosis is perceived as someone else's problem, there's no doubt we need a bit of political leadership."
He said there had been a "shameful" lack of investment in tuberculosis treatment and research.
"With global population movement, tuberculosis is in everyone's backyard."