The changing health service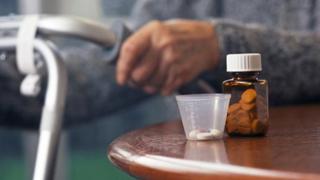 Ever since the NHS was created it has been dominated by two services - hospitals and GP care.
But if the health service is to thrive in the 21st Century that will have to change.
There will need to be a third pillar - the community service (or integrated care as it is known in the NHS).
The term covers services aimed at people with long-term conditions. They are the patients who need care as there is no cure.
It includes diabetes patients who need their treatment regimes closely monitored and regular foot and eye checks.
It also covers support and rehabilitation for the frail and vulnerable when they are released from hospital and help for people with dementia to stay independent.
But the problem with the current system is that they often do not get the help they need or do not get it early enough.
The result? They eventually end up in hospital more ill than they would have been.
This is bad for the individual and bad for the health service - as hospital care is more expensive.
Jennifer Dixon, chief executive of the Nuffield Trust think-tank, says this is the crux of the issue.
"We have talked about integrated care for so long, but I think this time it will be different.
"It has to be because of the money situation. We have no choice."
A quick look at the statistics proves this.
An estimated 15 million people in England have a long-term condition - a quarter of the population.
But they account for £7 out of every £10 spent on the health and care.
Radical rethink
With the number of patients expected to rise in the coming years, particularly the group with multiple conditions, that is clearly unsustainable.
With the right treatment, many of these patients do not need to be in hospital.
But the fact remains that nearly three quarters of beds are occupied by someone with a long-term condition.
The NHS Confederation recently looked at this issue, concluding there needed to be a radical rethink.
Jo Webber, director of policy at the confederation, explains: "For too long, the default setting when we think about healthcare or support is to think of a hospital.
"But in reality, acute hospitals - whether major teaching sites or local district generals - are rarely the best place for someone who needs ongoing health or treatment."
Mike Dixon, of the NHS Alliance, which has championed the changes, agrees, arguing that by giving power to GPs the shake-up will help change the mindset of the NHS.
"We cannot carry on as we are. We are the most prolific users of hospitals in the Western world. It is now time to base services in the community, to pool budgets and design services around the patient.
"Hospitals admissions should be seen as a failure from now on."