Early death link to learning disabilities 'shocking'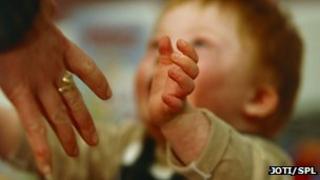 People with learning disabilities die on average 16 years earlier than they should, due to NHS failings, according to official research.
The Department of Health, which commissioned the work, says this is unacceptable.
The deaths occur due to delays or problems investigating, diagnosing and treating illnesses.
The charity Mencap estimates 1,200 people with learning disabilities under NHS care die needlessly each year.
Avoidable deaths
The Bristol University researchers who carried out the work looked at all deaths over a two-year period at five primary care trust areas in the south-west of England.
This included the deaths of 233 adults and 14 children with learning disabilities and 58 adults without learning disabilities.
And it revealed that people with learning disabilities were more likely to have a premature death than those in the general population.
Women with learning disabilities died on average 20 years earlier than other women. Men with learning disabilities died 13 years sooner.
One of the researchers, Dr Pauline Heslop, said: "These are shocking findings and must serve as a wake-up call to all of us that action is urgently required.
"This report highlights the unacceptable situation in which people with learning disabilities are dying, on average, more than 16 years sooner than anyone else.
"The cause of their premature deaths appears to be because the NHS is not being provided equitably to everyone based on need."
Basing its statistics on the new research, the charity Mencap believes the failure to properly understand the health needs of people with learning disabilities results in 1,238 people in England dying needlessly each year.
Mencap's acting chief executive Jan Tregelles, said: "A scandal of avoidable deaths on the scale of [that at the Mid-Staffordshire NHS Trust] takes place every year for people with a learning disability in the NHS.
"These deaths, caused by poor care and delays in diagnosis and treatment, highlight the scale of discrimination faced by disabled patients in the NHS."
The Bristol University academics have made several recommendations, including:
the creation of a review body to investigate the deaths of people with learning disabilities
a named health professional to co-ordinate the care of those with multiple health needs
improved guidelines on when a "do not resuscitate" order should be used
In a statement, the Care And Support Minister, Norman Lamb, said: "This important and sobering report highlights, yet again, the inequalities that people with learning disabilities face with regard to their health and care.
"It is just not acceptable that people with learning difficulties have such a high risk of dying prematurely.
"The findings from this report will feed into the work going on to address the issues identified from the Winterbourne [View private hospital abuse] scandal and the Francis report [into the Mid-Staffordshire NHS Trust scandal]."