Ann Clwyd to head review of way NHS handles complaints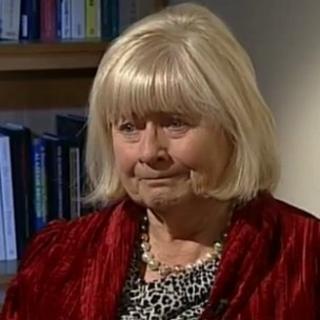 The government has announced the start of a major review of the way the NHS in England deals with complaints from patients and their relatives.
It follows the scandal over neglect and abuse of patients at the Mid Staffordshire NHS Trust which led to hundreds of unnecessary deaths.
The review will be carried out by the Labour MP Ann Clwyd.
She was asked to do it by David Cameron after revealing the poor care her husband Owen Roberts received.
In an emotional interview to be broadcast by BBC Radio 4's World at One programme she described her distress at the way her husband was treated before he died at the University Hospital of Wales in Cardiff last October.
In the December interview she said her husband died "like a battery hen", and was treated with coldness, indifference and even contempt by NHS staff "who didn't care".
In a new interview with the World at One, the Cynon Valley MP described being inundated with more than 2,000 emails and letters from people describing similar complaints about poor care.
She said reading many of their stories was a "harrowing" experience, and the accounts came from people both inside and outside the NHS.
"They came from all kinds of people - from doctors, nurses, ex-matrons, administrators and, of course, patients and patients' relatives," she said.
"And the range of things people wrote about; poor standards of care, uncaring nurses and doctors, panic buttons out of reach, water and food out of reach, bed sores untreated, patients sitting for hours in urine or faeces."
Patient experiences
Ms Clwyd showed the BBC some of the individual letters she received.
One read: "First time in hospital, and mother had two broken wrists. No-one would feed her when the meals were delivered, despite the fact that she had two arms strapped up in the air. My aunt had to travel just over two hours by bus every day just to ensure she was fed."
Another person complained: "I went to the nursing station on one occasion to see the entire team bidding at the end of an eBay auction. I was kept waiting, ignored, until it was ended."
One man, describing his wife's treatment said: "When visiting my wife, after an operation to mend her broken hip I asked a nurse for help as she was being very, very sick. She announced 'I am a graduate, I don't do sick', and left me to deal with the situation."
Ms Clwyd said a common theme in much of the correspondence, including comments from nurses, was that the training had become too academic.
"People criticise university-based training rather than ward-based training," she said.
"There's a feeling that nurses have got the academic qualifications, but they haven't got had the practical experience of working with patients."
Quick changes
The MP is being helped with the review by Prof Tricia Hart, the chief executive of South Tees Hospitals NHS Foundation Trust. She worked as an adviser on the two Francis Reports into the Mid Staffordshire Hospital scandal.
Ms Clwyd said she would be visiting hospitals and speaking to NHS nurses, doctors, and managers as part of her review, and that she was aiming to produce recommendations for change very quickly; within the next three months.
"One of the main things I and the people who've written to me want is a change in the whole culture, so that these issues are properly addressed, and that they're just not looked at as a lot of recommendations again; that we actually follow them through and make sure something happens in this case," she said.
She admitted that changing the culture would not be easy.
"It's a big task," she said, "But we have got the picture, and the picture is not a good one. It is our National Health Service - we've all paid into it, and we're still paying into it. We've got the right to expect a good standard of care.
"A lot of people are full of praise for what the NHS has done for them, but on the other hand you've got people like this, and people like myself, who feel that the NHS let our relatives down. The warning signs have been there for quite a long time; they must be acted upon."
Follow Andrew @andrewbomford on Twitter.