How one question can change the NHS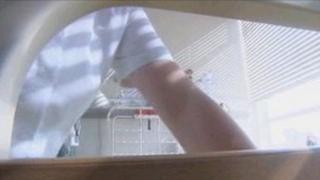 The public inquiry into the scandal at Mid Staffordshire called for "fundamental culture change" in the NHS.
Central to the government's response is the friends and family test - a questionnaire to gauge patient satisfaction.
It will be mandatory at all hospitals across England from next month.
But can it really transform standards on wards?
At Walsall Manor Hospital they have been using the friends and family test for about 18 months. Patients are offered the form to fill in as they are about to be discharged, or they can do it online. The response rate is nearly 30%.
There are 25 questions but the key one is on the front of the form - how likely is it that they would recommend the hospital to friends and family. And there is a text box for comments.
Distressing
After being handed the questionnaire by a nurse, Carl Woolley, 50, a patient recovering from an emergency operation told me he was happy to take a few minutes to fill it in.
"It's a nice surprise that they care about how they're treating you when you come into hospital. They don't just let you out as if they couldn't care less about how you were treated. So it is nice to be able to give your opinion."
The results are fed back to staff every week, ward by ward. They are posted up on the wall alongside data on falls, pressure ulcers and infections.
The findings are kept under constant review. Trust chief executive Richard Kirby says this approach has helped them spot problems quickly and deal with them.
"Where we've got teams where we're struggling a bit, the information about the specific things patients would like us to improve helps us work with those teams to make the changes we're trying to make. And it means the patient experience can be first and foremost in all the conversations we're having with the teams."
Ward 10 takes emergency patients referred from A&E and by GPs, and also people having weight loss surgery. The friends and family score here has improved significantly since it was introduced. The nurse in charge, Deb Mason, says the initial results were distressing.
"We could expect some about the food, the environment, or the noise, but myself and my colleagues were often disappointed by some of the comments about the nursing care and we really wanted to improve that."
She says the trust responded by improving staffing levels.
"As a result of that there's a lot more nursing presence in each bay. And we've noticed a huge effect on the buzzers. They don't need to be used as frequently because there's invariably a nurse already in the bay with the patients."
The feedback has also led to warmer wards in the cold weather, an end to noisy vacuum cleaning first thing in the morning, and better access to TV remote controls.
At this trust, the questionnaire is offered to all inpatients and in A&E, maternity and outpatients. Soon it will be extended to services in the community.
Here, as in many other hospitals, the survey is being managed by the online patient feedback company iWantGreatCare.
Its chief executive, Dr Neil Bacon, says the findings can be an early warning system to prevent serious problems, reducing reliance on death rates to identify poor-performing trusts
"I want to know when there's a little problem before patients start dying. That's what real-time patient experience can do," he said.
Financial incentives
But he says the scoring system across the NHS must be simple to help people compare different trusts - like the five-star rating on TripAdvisor or eBay.
From 1 April, the friends and family test will be on a six-point scale - from "extremely likely" to recommend the service to "extremely unlikely". Scores will be published on a range between + and - 100.
Dr Bacon says that could be confusing.
Prof Peter Lynn, an expert on survey methodology from Essex University, says the findings may be unreliable.
"I have concerns about whether the friends and family test will actually provide data that allows meaningful comparisons of the performance of trusts - partly because of reliance on a single rather vague question and partly because hospitals will vary in how they approach patients and encourage them to answer the question."
The government insists the test will give everyone a clear idea of where to get the best care, without piling costs on trusts. It says by checking on the NHS choices website, people will be able to see which trusts are in the normal range, those among the best and those among the worst.
There will be financial incentives for good performers - but the government hopes there will be a much bigger prize for everyone - a better culture of care across the NHS.