Health and care system 'struggling with dementia'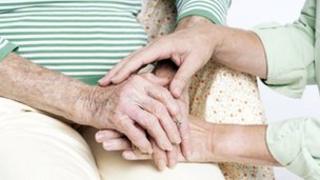 The health and care system in England is "struggling" to look after people with dementia, according to the regulator.
The Care Quality Commission said both hospitals and care homes were failing in key areas as the number with the condition rose as people lived longer.
It found dementia patients in hospital were more likely to face longer stays, be readmitted and die there.
Meanwhile, care homes were not doing enough to keep patients well, it added.
The CQC announced the conclusions after reviewing more than 20,000 inspections it had carried out as well as looking at existing data.
It found that in 78 out of 151 local NHS areas people with dementia who lived in care homes were more likely to be admitted to hospital for an avoidable reason than people without the condition.
In 96% of hospital trusts people with dementia stayed longer than those without the condition and in 85% of trusts people with dementia were "significantly more likely" to die in hospital than patients without dementia.
The CQC called for "better identification of dementia" and comprehensive training for staff after the report also found that almost a third of hospital admissions for people with the condition did not include a record of their dementia, even though it had been identified in the past.
CQC chief executive David Behan said: "The people in charge of care homes and hospitals must work better, individually and together to ensure the right services are in place."
Around one in three people over the age of 65 will develop dementia in their lifetime.
It is estimated that there are around 800,000 people at the moment with the condition, but as people are living longer that figure is rising.
Over the next 10 years it could top one million, experts believe.
Alzheimer's Society chief executive Jeremy Hughes said: "Tolerating inaction on dementia care even a day longer is tantamount to playing Russian roulette with the lives of people with the condition."
The government has already made it a priority, backing a national awareness campaign, funding research and providing extra training in places.
Care services minister Norman Lamb said: "There is no excuse for delivering poor care. By exposing bad practice, and highlighting best practice, we are determined to drive up standards for everyone."