NHS 'privatisation' reform 'could place people in danger'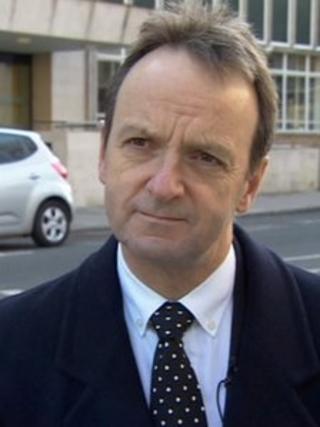 Exposing more of the NHS to private competition could cause a "dangerous" fragmentation of health services in England , the chairman of the Academy of Royal Medical Colleges has said.
Prof Terence Stephenson said patients could be "in danger from complications" if the NHS is not "joined up".
He has written to health minister Lord Howe to request an urgent meeting.
A Department of Health (DH) spokesperson said they were working to address the "concerns" of clinicians.
New rules concerning the role of private firms and other amendments to the government's radical Heath and Social Care Act are due to be debated by peers in the House of Lords on Wednesday.
The act aims to reorganise the NHS in England, giving greater powers to doctors, nurses and other clinicians.
Campaigners are calling for MPs, not peers, to debate the changes, and throw them out.
Balanced competition
Prof Stephenson told the BBC that patients with serious health conditions, perhaps requiring multiple types of treatment, would be most affected by a potential influx of private firms.
Under the Act, enacted into law almost a year ago, groups of GPs and other clinicians were given more responsibility for spending most of their budgets and for buying-in certain health services, a process known as clinical commissioning.
While competition between NHS and private providers already exists in areas such as physiotherapy, hearing tests and dermatology, the new rules mean it could be expanded to many other areas of care.
These changes were originally opposed by some clinicians and politicians, resulting in ministers agreeing to introduce competition in a more balanced and manageable way.
But there's now concern the regulations would force nearly every service out to tender.
Prof Stephenson said he was concerned that doctors "would be obliged to tender complex [health] services to the private sector" which could possibly led to a disruption to the smooth pathway of healthcare services.
He added: "Children and adults with complex serious diseases need a joined-up service. We're very keen that that shouldn't be just like buying a mobile phone.
"When you are dealing with very complex things, like transferring patients with complex heart surgery from one part of the country to the other, they need post-operative care and rehabilitation. That all has to be joined up.
"If you have a private provider just offering to do one bit of that, we're very worried that the service won't be joined up, that medical records won't be open to everyone and there won't be joint accountability."
'Insist on debate'
Prof Stephenson insisted he was not completely against privatisation "full stop", but warned the potential breaking-up of health services "could place people in danger from complications from a service that is not joined up, that is erratic and fragmented".
Prof Stephenson said that ultimately, only a changes in the wording of the regulations governing competition in the NHS would allay his fears over the fragmentation of health services.
All the 21 royal medical colleges and faculties are members of the academy, which represents about 220,000 doctors in the UK.
Responding to the comments, a DH spokesperson insisted the government was "absolutely committed" to the principle that doctors and nurses "will be able to decide how services should be provided" in the best interest of their patients.
They added: "The regulations will make sure that doctors and nurses can decide when and where to use competition so they can improve services for patients.
"However, we do recognise that concerns have been raised about the way in which the regulations could be understood and we want to do everything we can to address these issues and provide clarity for all concerned."
On Friday, more than 1,000 doctors wrote a letter to the Daily Telegraph claiming the rules, under section 75 of the act, would "force virtually every part of the English NHS to be opened up to the private sector to bid for its contracts".
It added: "These regulations were proposed on 13 February and will become law on 1 April, unless MPs insist on a debate and vote them down."
And one of the architects of the the government's health reforms has also expressed doubts about the changes.
Dr Mike Dixon, who leads the NHS Alliance and helped draft the Health and Social Care Act, said he feared GPs "would walk" unless changes to the law were made.
He told GP journal Pulse that doctors could get "bogged down" in the process of "being competitive" which could "take their eye off the ball".