Whooping cough outbreak cases fall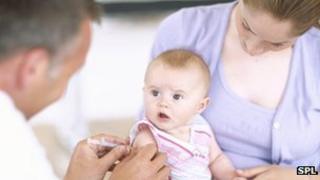 The number of people catching whooping cough continues to fall in England and Wales, official figures show.
There were nearly 10,000 cases in 2012 during the largest outbreak of the diseases in decades.
The Health Protection Agency said there were 668 cases in January, down from 835 the month before.
It said the number of monthly infections was still "unusually high", but was less than half the number of cases reported at the outbreak's peak.
Dr Gayatri Amirthalingam, consultant epidemiologist for immunisation at the HPA, said: "The January figures show a welcome continued decrease of whooping cough cases since October.
"However, it is very important to note that we usually see a reduction in cases of whooping cough at this time of year so this decrease is in line with normal seasonal patterns."
Fourteen babies have died during the outbreak so a programme to vaccinate pregnant women was launched in order to pass protection from mother to child in the womb. Around 60% of pregnant women have accepted the offer of a jab.
Dr Amirthalingam added: "Parents should also be alert to the signs and symptoms of whooping cough - which include severe coughing fits accompanied by the characteristic 'whoop' sound in young children but as a prolonged cough in older children or adults."