NHS reform 'complete waste' warning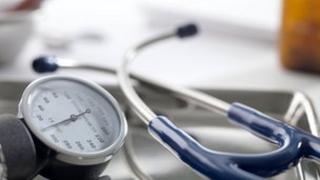 Opening most of the NHS in England to private firms could alienate doctors and render the reforms "a complete waste of time", a GP who helped draft the plans has warned.
Dr Michael Dixon told GPs' journal Pulse that he feared GPs "will walk".
He says the legislation's wording on competition must be amended or doctors could get "bogged down" in the process and distracted from patient care.
The government insisted there was no policy to privatise NHS services.
Budget responsibility
The balance of power is about to shift dramatically within the NHS, with GPs and other clinicians given much more responsibility for spending most of the budget in England.
There is already competition for services such as physiotherapy, hearing tests and dermatology - which could be expanded to many other areas of care. Essential services such as A&E would be protected.
But the issue of involving the private sector to introduce competition for services was vehemently opposed by some critics within the medical profession when the changes were drawn up.
Ministers responded by agreeing to introduce competition in a more managed and balanced way. However, there is fresh concern that legislation about to go through the House of Lords will force nearly every service to be put out to tender. Critics have said this is a blueprint for privatisation and goes against government assurances.
Dr Dixon, who heads the NHS Alliance - an organisation which represents doctors, nurses and managers on the front line - said the danger with the current wording of the rules was "that it seems to put a duty upon the commissioner to go for competition with all contracts that are made".
He warned that doctors would "start getting bogged down" in dealing with competition and would end up taking their "eye off the ball".
He told the BBC that getting the right level of competition was vital: "It means not having to introduce competition willy nilly - but using it when it's in the interests of patients.
"I don't want tenders, which cost a lot of money and time, when a local provider is doing a good job.
"Sadly, I think this is what one or two of the clauses might lead to."
'Nail in coffin'
Meanwhile, more than 1,000 doctors have written to the Daily Telegraph claiming the legislation makes "virtually every part" of the NHS open to private firms.
They wrote: "We are concerned about the government's proposed secondary legislation (under Section 75 of the Health and Social Care Act) to force virtually every part of the English NHS to be opened up to the private sector to bid for its contracts.
"These regulations were proposed on 13 February and will become law on 1 April unless MPs first insist on a debate and then vote them down.
"Parliament does not normally debate or vote on this type of regulation, but it is possible. We urge parliamentarians to force a debate and vote on this issue to prevent another nail in the coffin of a publicly provided NHS free from the motive of corporate profit."
The government said the rules were about ensuring the process was fair to all concerned.
Sources close to Jeremy Hunt said he was aware of the concerns but was "confident" the regulations were in keeping with the promises made.
It is understood that ministers will be writing to peers who will be addressing this issue next week to "allay fears". There is also consideration being given to rewording parts of the regulations.
Labour MP Andy Burnham, shadow health secretary, said: "The government needs to start listening and they should start by withdrawing these regulations without delay.
"What is now clear is that the medical professions and Parliament have been treated with contempt - the overnment is now forcing competition through the back door.
"People have never given them the permission to put the NHS up for the sale and they need to be forced to remember that."