Drug firm Roche pledges greater access to trials data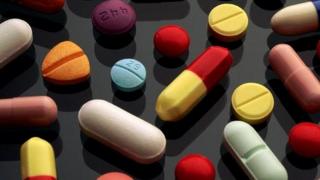 The pharmaceutical company Roche has announced that it will make more of the data from its clinical trials available to researchers.
The company says it will appoint a panel of experts to evaluate and approve requests to access anonymised patient data.
But the announcement has been dismissed as "pathetic" by campaigners arguing for greater transparency from the pharmaceutical industry - an issue I wrote about last month.
It's estimated that half of all clinical trials have never been published and positive trial results are twice as likely to be published as negative findings. The AllTrials campaign wants the pharmaceutical industry to publish all data, and is supported by the Wellcome Trust, the BMJ and NICE.
"More transparent"
Roche, which makes the anti-viral medicine Tamiflu, has been repeatedly criticised by researchers for failing to grant access to all its data on the drug.
In response Roche has appointed a four man panel headed by flu expert Prof Albert Osterhaus to look at data on Tamiflu which the company says will "identify unanswered questions".
Roche says it will also appoint an "independent body" to assess the validity of requests for unpublished trial data for its other medicines.
Daniel O'Day, Chief Operating Officer of Roche Pharma said: "We understand and support calls for our industry to be more transparent about clinical trial data with the aim of meeting the best interests of patients and medicine."
Mr O'Day told me that although the company would appoint the experts, the panel would be independent and would "stand up to public scrutiny".
"Pathetic"
But the announcement has been met with derision by the organisation Sense About Science, which helped initiate the AllTrials campaign for all clinical research to be published. Its director Tracey Brown said: "Does Roche expect applause for announcing that it will continue to keep clinical trial findings hidden? They're on another planet. Roche's response is pathetic. Which bit of All and Trials do they not understand?"
Carl Heneghan, Director, Centre of Evidence-Based Medicine, University of Oxford, who is part of the Cochrane team reviewing Tamiflu said, "How can any panel be independent if they appoint it and oversee it? It also means there will be confidentiality clauses within any agreement. Either you provide the data in a transparent manner or you don't."
Earlier this month GSK became the first major pharmaceutical company to pledge its support for the AllTrials campaign. GSK said it would publish all clinical trial data dating back to the formation of the company in 2000 when it merged with SmithKline Beecham.
In the past GSK has been caught withholding safety data and last year it agreed to pay $3bn (£1.9bn) in the largest healthcare fraud settlement in US history after promoting two drugs for unapproved uses and other failures.
Its support for the AllTrials campaign is seen as highly significant.
Dr Heneghan said that GSK had provided him with all 30 clinical study reports (CSR) - regarding its anti-viral flu drug Relenza whereas he had received just one regarding Roche's drug Tamiflu.
Roche says it has published 71 out of 74 Tamiflu trial results but these can be just short summaries and not the raw data of clinical study reports which can run into hundreds of pages.
The doctor and columnist Ben Goldacre, who has spearheaded the campaign for data transparency said GSK had "led the field" by signing up to AllTrials and it was "bizarre to see that Roche expect to be praised today for continuing to withhold data." He predicted that the era of drug companies and researchers "routinely withholding important information about clinical trials is coming to an end."