Ban smoking in cars, says health minister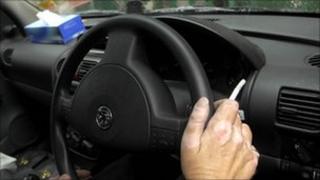 Smoking should be banned in cars carrying children, says England's public health minister.
Anna Soubry said her personal view was that it was justified on "child welfare" grounds.
Several health groups have called for the move, but it has been resisted so far by the government.
The prime minister has said while he supports the smoking ban in pubs and clubs, he is "more nervous" about legislating what happens in cars.
At the Local Government Association's annual public health conference, Ms Soubry said: "I would ban smoking in cars where children are present.
"I would do that for the protection of children. I believe in protecting children. I would see it as a child welfare issue.
"I think it is something we should at least consider as government."
Ms Soubry, who is a former smoker herself, made it clear to the audience she was expressing her own views.
This is not the first time she has spoken out while she has been a minister. In January, she found herself in the headlines for comments about children from poor backgrounds being more likely to be obese.
She has also described the current laws on assisted dying as "appalling".
Respiratory illness
While the government is not considering a ban currently, it has run marketing campaigns aimed at encouraging people not to smoke in the presence of their children at home or in cars.
A survey by the Department of Health last year found that more than one in five smokers lit up in front of their children in the home or in cars.
Children are particularly vulnerable to second-hand smoke due to their higher breathing rate, and less well-developed airways, lungs and immune system.
Those exposed are more at risk of respiratory illnesses, asthma, meningitis and even cot death.
Research shows that 300,000 children in the UK visit their GP each year due to second-hand smoke, with some 9,500 visiting hospital.
Martin Dockrell, director of policy and research at the campaign group Action on Smoking and Health, said: "The minister can count on our support and the majority of the public. A ban on smoking in cars is the right thing to do.
"We need to think about whether this should just be aimed at children. Older adults are vulnerable too."
A host of other health groups have also called for a ban in cars, including the British Medical Association and Royal College of Paediatrics and Child Health.
In Wales, ministers have said they will look to ban smoking in cars if their current drive to reduce smoking does not work.
Bans have already been introduced in other parts of the world.
Some parts of Canada, the US and Australia as well as the whole of South Africa have introduced legislation.