Doctors' phone line triggers 'serious' GMC inquiries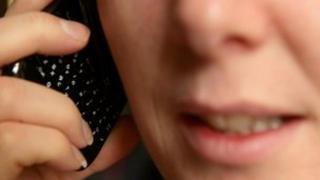 A whistle-blowing helpline set up by the UK's regulator of doctors two months ago has led to 12 investigations into allegations of a "very serious" nature.
Figures seen by the BBC show the confidential phone line has had 187 calls since its launch.
One in seven was thought to be serious enough for the General Medical Council (GMC) to make further inquiries.
Most of the callers were doctors but some members of the public rang too.
The 12 "very serious" investigations involve complaints which suggest a doctor may not be fit to practise and there may be a risk to patient safety.
The phone calls have also triggered four less serious inquiries - these are allegations which could justify action by the regulator if they were part of a wider pattern of concern about a doctor.
The GMC is considering information in seven other cases that have come to light through the confidential phone line. Four cases were looked into and then closed.
Relatively high numbers of calls were from the north-west of England, the West Midlands and London.
The GMC launched its helpline in December, to enable doctors to raise serious concerns about patient safety if they felt unable to do so locally.
Every doctor in the UK was sent new guidance in March last year, making it clear that they had a professional duty to act to protect patients' interests at all times.
The chief executive of the GMC, Niall Dickson, said: "We haven't engaged in a massive publicity campaign around this line, so the response shows there is a need for this service.
"Some of the doctors were phoning up with serious concerns, which has resulted in ongoing investigations. We're very pleased that concerns are reaching us - it's one way of pursuing areas where patients may be at risk.
"There are situations where doctors genuinely feel intimidated by the environment they're in and don't feel they can raise concerns. That's something which we, the health service and the profession more generally have got to tackle.
"We've got to move to a situation where it is absolutely routine for professionals to put patient safety first at every opportunity - even if this means raising concern about a more senior colleague."
Advice and support
Some of the 187 helpline calls were directed elsewhere - to the nurses' regulator, for example - or they involved more general inquiries, such as doctors wishing to pay their registration fees.
The question of why concerns about poor care in the NHS do not always get flagged up or dealt with have been an issue since the Francis report into the failings at Mid-Staffordshire trust was published a fortnight ago.
The GMC phone line has received 43 calls since then - this does not represent a surge.
The regulator is to hear four "fitness to practise" cases involving doctors from Mid-Staffordshire. The first of these is due to begin next month.
There are various avenues for reporting poor care.
A free whistle-blowing helpline covering concerns about the NHS and the social care sector was launched by the previous Health Secretary, Andrew Lansley, in January last year. The charity Mencap has a three-year contract worth £480,000 to run the line.
It has had 1,325 calls since then - and 105 requests for advice by email. It gives advice and support to individuals, employers and trade unions.
The Patients Association receives more than 8,000 calls on its helpline every year.
Patients and members of staff can also ring the main regulator of NHS and social care organisations in England, the Care Quality Commission (CQC).
The CQC says it received around 600 calls a month last year which it classified as "genuine concerns" from whistle-blowing staff.
The Royal College of Nursing (RCN) launched a phone line to support whistle-blowing nurses in 2009. It received around two calls a week in its first year.