Falling drug breakthroughs 'a myth'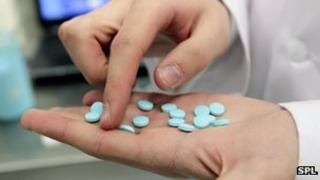 Fears the number of new medicines available to patients in the UK is declining have been rejected.
Researchers found the number of drugs introduced during the last 30 years had in fact increased slightly, the BMJ Open journal reported.
This comes despite persistent suggestions they have dwindled, the Birmingham University team said.
Researchers came to the conclusion after analysing data in the British National Formulary guide on drugs.
They looked at how many new medicines were added between 1971 and 2011.
The average number of drugs introduced per year was just under 23, varying from nine in the lowest year to 34 in the highest.
The researchers said there were steep peaks and troughs over this period, including a dip between 1998 and 2006. Since then the numbers have risen again.
It has meant in recent years there have been 0.16 more drugs being produced every year than there were in the 1970s.
'Pessimism'
Previous research projects which have found declines in the number of new medicines focused on smaller periods of time, the study said.
But it still said the rising costs of drug development and the increase in time in takes from to bring a new drug to the market remains an ongoing problem for the pharmaceutical industry.
Report author Dr Derek Ward said: "We started this research because there was a great deal of pessimism within the industry and among pharmaceutical companies about the number of new drugs that were getting to the market.
"We found that looking at the data over the longer term there was a slight increase. This is obviously a good thing for patients, if more new medicines are becoming available."
Dr Phil L'Huillier, from Cancer Research Technology, part of Cancer Research UK, said: "This is encouraging news. Although the cost of developing drugs is accelerating, meaning that the number of drugs per pound invested in research and development is decreasing, there is a wealth of innovation in UK drug discovery.
"The landscape is shifting with pharmaceutical companies increasingly collaborating with academia for discovery and development of drugs. This more collaborative model is being applied to the high-risk innovative early stages of drug discovery, with companies taking on the highly expensive later stage development.
"Cancer Research Technology has recently launched a £50M fund to stimulate investment in drugs discovery in the UK to support innovative early-stage drugs discovery and development and bridge the gap between work carried out in the lab right up to early phase clinical trials to prove drugs can benefit for patients."
Association of the British Pharmaceutical Industry chief executive Stephen Whitehead said: "It is a common myth that our industry has struggled to develop new medicines, when in reality the research pipelines of companies are healthy."