Coronavirus: Sars-like virus death reported in UK
By James Gallagher
Health and science reporter, BBC News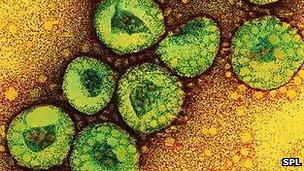 A patient infected with a new respiratory illness similar to the deadly Sars virus has died in the UK.
He was being treated at the Queen Elizabeth Hospital in Birmingham and died on Sunday morning, the hospital has confirmed.
Of the 12 people known to have been infected with the virus around the world, six have died.
The threat to the general population is thought to be small, although the virus has shown signs of spreading in people.
Three members of the same family have been infected with the virus in the UK as well as another patient who was flown in from Qatar for treatment.
It is thought one family member picked up the virus while travelling to the Middle East and Pakistan and then the virus spread to his son and another family member.
The son, who died, had a weakened immune system, which would have left him more vulnerable to the infection.
The hospital said it extended its sympathies to the family and was working with the Health Protection Agency to test other people who may have come into contact with the virus.
The infection causes pneumonia and sometimes kidney failure.
The exact source of the new virus and how it spreads is still unknown. The leading theory is that it comes from animals and the new Sars-like virus does appear to be closely related to a virus in bats.
The threat posed by the virus is thought to be low as it struggles to spread in people.
Prof John Watson, head of the respiratory diseases department at the Health Protection Agency, said: "The routes of transmission to humans of the novel coronavirus have not yet been fully determined, but the recent UK experience provides strong evidence of human-to-human transmission in at least some circumstances.
"The three recent cases in the UK represent an important opportunity to obtain more information about the characteristics of this infection in humans and risk factors for its acquisition, particularly in the light of the first ever recorded instance of apparently lower severity of illness in one of the cases.
"The risk of infection in contacts in most circumstances is still considered to be low and the risk associated with novel coronavirus to the general UK population remains very low."
Prof Ian Jones, from the University of Reading, said: "Given the previous health status of the patient it may be premature to assume the death was a result of the infection but even if it was, it is unlikely to signify a change in the virus.
"No general virus spread has been reported meaning the risk to the public remains very low."
Related Internet Links
The BBC is not responsible for the content of external sites.