Smoking ban 'cuts premature births'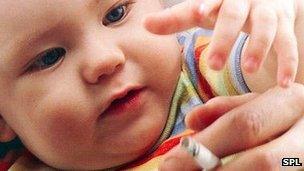 The theory that public smoking bans cut the number of children born prematurely has been strengthened by new research.
The study of 600,000 births found three successive drops in babies born before 37 weeks - each occurring after a phase of a public smoking ban was introduced.
There was no such trend in the period before the bans were put in place, the British Medical Journal reported.
The study, by Hasselt University in Belgium, comes after Scottish research in 2012 found a similar pattern.
But experts could not fully state the smoking ban was the cause of the change because pre-term births had started to drop before the ban.
It is already well established that smoking leads to reduced birth weight and an increased risk of premature birth.
In the latest study researchers were able to look at the rate of premature births after each phase of a smoking ban came into force in Belgium.
Public places and most workplaces were first to introduce smoke-free rules in 2006, followed by restaurants in 2007 and bars serving food in 2010.
The rate of premature births was found to fall after each phase of the ban with the biggest impact seen after the second two bans with restaurants and bars introducing no smoking rules.
After the bans in 2007 and 2010, the premature birth rate dropped by around 3% each time.
Overall it corresponds to a fall of six premature babies in every 1,000 births.
The changes could not be explained by other factors - such as mother's age and socioeconomic status or population effects such as changes in air pollution and influenza epidemics.
There was no link found with birth weight.
Study leader Dr Tim Nawrot from Hasselt University said that even a mild reduction in gestational age has been linked in other studies to adverse health outcomes in early and later life.
"Because the ban happened at three different moments, we could show there was a consistent pattern of reduction in the risk of preterm delivery."
He added: "It supports the notion that smoking bans have public health benefits even from early life."
Patrick O'Brien, spokesperson for the Royal College of Obstetricians and Gynaecologists said: "It is very gratifying to see further strong evidence that smoking bans have had a beneficial impact on pregnant women and their babies."
Related Internet Links
The BBC is not responsible for the content of external sites.