Second UK case of 'Sars-like' coronavirus identified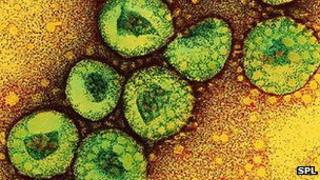 A second case of a new respiratory illness similar to the deadly Sars virus has been identified in the UK.
The patient, who is receiving intensive care treatment in a Manchester hospital, had recently travelled to the Middle East and Pakistan.
Doctors insist the risk of the new coronavirus spreading to the general UK population is "extremely low" and the situation is being closely monitored.
The total number of confirmed cases globally now stands at 10.
The death toll is five - three patients treated in Saudi Arabia and two treated in Jordan.
Coronaviruses are a large family of viruses ranging from the common cold to the Sars (severe acute respiratory syndrome) virus, spread through droplets of body fluids produced by sneezing and coughing.
In 2002 an outbreak of Sars killed about 800 people after the virus spread to more than 30 countries around the world.
The new coronavirus was first identified in September 2012 in a patient in Saudi Arabia who has since died.
Soon after, officials identified another case - this time in the UK. The 49-year-old man in question had been transferred to St Thomas' hospital in London by air ambulance from Qatar.
Five months on, a second UK case has been found.
Prof John Watson, head of the respiratory diseases department at the Health Protection Agency (HPA), said: "The HPA is providing advice to healthcare workers to ensure the patient under investigation is being treated appropriately and that healthcare staff who are looking after the patient are protected. Contacts of the case are also being followed up to check on their health."
No travel restrictions are in place.
But Prof Watson said people who developed severe respiratory symptoms, such as shortness of breath, within 10 days of returning from the Arabian Peninsula and surrounding regions should seek medical advice and mention the countries they have visited.