Many cancer patients are struggling alone, charity says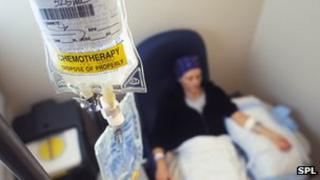 Thousands of cancer patients struggle to manage their treatment and recovery because they get no support from family or friends, a charity has said.
A survey by Macmillan Cancer Support suggests one in four newly-diagnosed patients lacks support.
It equates to about 70,000 people in the UK struggling to look after themselves with no help.
The research also found more than half of doctors have had patients refuse treatment because of a lack of support.
About 325,000 patients are diagnosed with cancer every year in the UK.
A survey of almost 1,800 patients found that people lacked support because family and friends lived too far away, had other commitments, or patients simply had no-one to turn to.
Of those questioned, 12% said they had not had a visit from family or friends in more than six months.
Half of those who said they were isolated had skipped meals or not eaten properly due to lack of help.
And more than a quarter had been unable to wash themselves properly, while 60% had not been able to do household chores.
Missed appointments
Isolation had also had an impact on treatment itself with one in 10 missing medical appointments and 18% unable to pick up prescriptions.
Most health professionals questioned in a separate survey agreed that lack of support at home led to a poorer quality of life for patients and half believed it could even cut patients' life expectancy.
Macmillan Cancer Support has launched a report calling on health professionals to ask patients about the support they have and direct them to other sources of help.
Chief executive Ciaran Devane says isolation can have a truly shattering impact on people living with cancer.
"Patients are going hungry, missing medical appointments and even deciding to reject treatment altogether which could be putting their lives at risk — all because of a lack of support.
"But these figures are just the tip of the iceberg.
"As the number of people living with cancer is set to double from two to four million by 2030, isolation will become an increasing problem and we need to address this now."
Lis Blyth, 66, from Surrey, was diagnosed with breast cancer in 2008.
She said living alone and having no energy during her treatment meant she lived on ready-made meals.
"There were days when I went to bed having had nothing more than a glass of milk and a biscuit because I was too exhausted to cook.
"That was four years ago, but even now, due to the long-term side effects of the treatment, I'm often still too exhausted to get on a bus and shop for food."
She added that after her initial diagnosis, none of the hospital staff she came into contact with asked how she was or if she could support herself at home.
Martin Ledwick, Cancer Research UK's head information nurse, said: "Health professionals should always check about an individual patient's social circumstances.
"But it's important they're prepared with lists of support groups and other available resources so they can recommend these to a patient who appears to be socially isolated."