Where next for the NHS?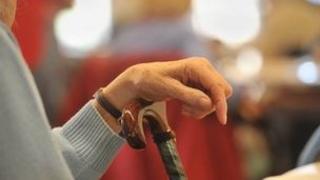 Across 1,781 pages, the public inquiry into the Stafford Hospital scandal has forensically set out what is wrong with the NHS system.
The report detailed a culture whereby the needs of patients were too often sidelined for the self-interest of the system.
Inquiry chairman Robert Francis was at pains to point out that change did not need major reform and reorganisation.
Instead, he said it was up to people to make a difference from the "cleaners and porters to the secretary of state".
But the question that has not been asked is: will they have the time?
Pressure on the NHS - and hospitals in particular - is growing all the time.
The ageing population and growth in chronic conditions, things like heart disease and dementia, means the health service has found itself having to manage patients rather than cure them.
That requires time. But that is the very thing staff all too often say they don't have.
Budget squeezes
The result is that many people find themselves having an emergency episode and end up in hospital.
Nearly two thirds of patients admitted to hospital are over the age of 65.
By far the most problematic for the health service is the very elderly - those over 85.
Once admitted they spend 11 days on average in hospital - nearly four times longer than working-age adults. Once discharged they have the highest chance of readmission.
Evidence suggests they would be better cared for at home, but that requires investment in NHS community services, such as district nursing, and social care support from councils.
Both are facing squeezes on their budgets in the current climate.
Towards the end of last year the Royal College of Physicians published a report called Hospitals on the edge?
It argued cultural change needed to be accompanied by a whole new approach to care whereby hospitals were seen as specialist centres.
But when the NHS tries to do that it faces problems as the furore over the reorganisation of hospitals in south London showed last week when thousands took to the streets to oppose changes.
It means the health service is caught between a rock and a hard place. Expectations are rising and care is getting more complex. Change is needed, but difficult to implement.
One thing is for sure, the Francis inquiry has ensured there will be no hiding place for the NHS as it battles to rise to the challenge.