Whooping cough cases 'falling'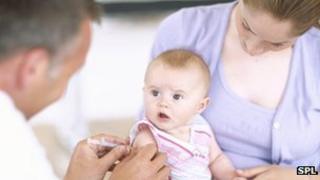 The largest outbreak of whooping cough for 20 years shows signs of slowing as cases fall for two months in a row, Health Protection Agency figures for England and Wales show.
There were 832 new cases in December, nearly half the figure from October.
One baby died in December, bringing the total number of deaths in newborns during the outbreak to 14.
Experts warn the outbreak may not be over as there is a seasonal dip in cases.
The current outbreak has been significantly worse than in previous years, affecting 9,741 in England and Wales in 2012.
There are surges every three to four years. However last year there were 10 times the number of cases than in the last outbreak in 2008. A similar pattern has been seen in Scotland and Northern Ireland.
'Welcome decrease'
Dr. Mary Ramsay, head of immunisation at the HPA, said: "The December figures show another welcome decrease in the overall number of whooping cough cases since the peak in October.
"However, it is very important to note that we usually see a reduction in cases of whooping cough at this time of year so this decrease is in line with normal seasonal patterns."
Anyone can catch whooping cough, but it tends to be deadly only in newborn babies as their immune systems are not yet ready to fight off the infection.
Vaccination does not start until they are two months old and requires multiple jabs until the baby is protected.
In response a UK-wide programme of vaccinating pregnant mothers was launched close to the peak of the outbreak.
Women between 28 and 38 weeks pregnant are being offered the whooping cough vaccine, which should pass protection onto their child in the womb.
Figures suggest around 55% of pregnant women have had the jab in December, up from 40% in October.
Dr Ramsay said: "Parents should be alert to the signs and symptoms of whooping cough - which include severe coughing fits that may be accompanied by the characteristic 'whoop' sound in young children; older children or adults will usually just have a prolonged cough."
Prof David Salisbury, director of immunisation at the Department of Health, said: "I'm pleased that more than half of pregnant women took up the offer of the whooping cough vaccine in December, but I'd urge more women to get it to protect their baby.
"Whooping cough is highly contagious and infants are particularly vulnerable.
"Fourteen infants died as a result of whooping cough in 2012 and there were 429 cases of the disease in children under three months old. It's vital that babies are protected from the day they are born - that's why we are encouraging all pregnant women to be vaccinated."