A&E waits and delays 'worsening' as winter bites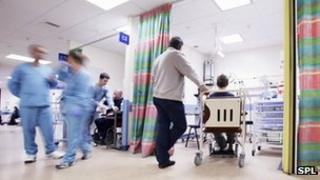 Patients going to A&E in England are facing longer waits and delays as growing pressure on hospitals put services under strain, figures suggest.
The data - highlighted by Labour - shows the problems have got worse over the past few months in particular.
The NHS is still meeting its target that 95% of people are seen in four hours, but the data suggests this winter has been more difficult.
There is also evidence of ambulances being left queuing outside hospitals.
Labour said the worsening situation was a result of government cuts, but ministers said the NHS was coping well.
An extra 47,000 patients have waited more than four hours in A&E this winter - a 20% rise on the same period 12 months previously.
Particular problems are being experienced by the major A&E units with the overall target only being hit because of the better performance of minor injury units and small A&Es.
'Unprepared for winter'
The data - compiled from official Department of Health figures and research by the Labour party - also showed a rise in ambulances having to wait more than 30 minutes to hand over patients once they arrive at hospital.
From 30 November to 20 January there were nearly 43,000 cases, up by 35% on the same period the year before.
There was even a case of an ambulance waiting more than five hours.
Elsewhere in hospitals, wards reported problems discharging patients. This is often related to a lack of community support from district nursing and social care being available for the most vulnerable patients.
Shadow Labour health secretary Andy Burnham said: "It is becoming clearer by the day that ministers left the NHS unprepared for winter. A number of A&Es are simply not coping.
"Hospitals don't have enough staff and there are growing concerns for patient safety."
The findings echo the concerns expressed by the College of Emergency Medicine in recent months.
College vice-president Taj Hassan said the rising pressures were "unsustainable".
"Safety of care delivery remains the top priority to maintain but unfortunately the rising numbers of patients, especially out of hours, continues to be a major challenge," he added.
Health Minister Norman Lamb said there would always be difficult weeks, especially during winter, but he added the NHS was still in line to meet the target this year.
He said this was being done despite an extra one million people visiting A&E units annually than two years ago.
"It really makes the case we have to do much more to keep people out of hospital."