Cancer drug fund future 'uncertain' as new scheme 'ill-defined'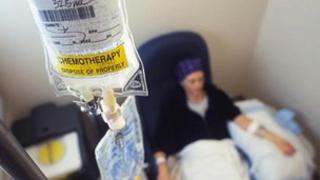 Many cancer patients could face an uncertain future over funding for their drugs, a parliamentary report says.
A government initiative increasing access to cancer drugs ends this year, but the system promised to replace it is "nebulous" and ill-defined, say MPs.
The Department of Health insists in the future patients will not miss out on drugs that they currently receive.
But the report criticises the government for delays in explaining its new plans to price all drugs.
The new pricing system is set to start in 2014 and could affect many medicines used by the NHS, not just cancer drugs.
But a big concern is that it replaces the temporary Cancer Drug Fund, which was introduced in 2011 to help people access cancer drugs currently not approved by the health regulator the National Institute for Health and Clinical Excellence (NICE).
The Health Select Committee says the lack of clarity on the future of the scheme puts cancer patients and doctors in the dark.
Committee chairman Stephen Dorrell said: "Where an individual patient is on a course of treatment it is important there isn't a cliff edge, that the patient has continuity of care."
The Department of Health said it would "ensure arrangements are in place to protect individual patients who are receiving treatment with drugs funded by the Cancer Drugs Fund as the end of the fund approaches."
The new drug pricing system due to come in is known as value-based pricing.
This aims to give NHS patients better access to effective and innovative medicines.
It means the clinical worth of a drug will be taken into account when setting a price tag.
But the health select committee says the government has done little to explain how the system will work in practice, despite the plans being under discussion since 2010.
Mr Dorrell said: "What we were told during our inquiry indicates that the move to value-based pricing of drugs will be a more modest change than has been suggested, but there is a lack of clarity around the whole issue which has persisted too long."
The committee wants the government to crystallise its plans by March this year.
A Department of Health spokesman said: "We are engaging a range of groups including patients, the NHS and industry as we develop plans for value-based pricing.
"However, as negotiations between the Department of Health and the Association of the British Pharmaceutical Industry are under way, it would be inappropriate to comment further at this stage."
Sarah Woolnough, Cancer Research UK's executive director of policy and information, said: "The Department of Health should urgently publish details of its plans for value-based pricing - as recommended today by the health committee.
"It is vital that the new system works for cancer patients and we want to see proposals that guarantee this."