Hospital staffing: Your stories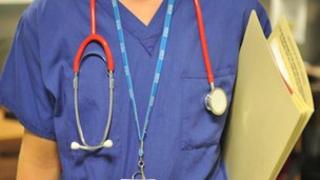 Seventeen NHS hospitals in England have been ordered to take action by the Care Quality Commission because they are failing to provide safe staffing levels.
Labour, which released the information, said the findings reflected a "toxic" combination of cuts and reorganisation.
The government said the number of NHS clinical staff had risen since 2010.
NHS staff and former workers have been sharing their stories with the BBC.
Margaret Davies, retired NHS physiotherapist
For the last 10 years of my career I was a senior clinical manager, before I retired four years ago.
It appeared that every time there were cuts the first to go were front line staff ie nurses, cleaners, porters etc.
In the latter years administrative staff numbers rocketed to manage the targets imposed by the last government and the ill-fated national IT project.
I feel NHS Trusts should differentiate between the numbers of clinical staff and non-clinical staff.
But that would probably mean even more non-clinical staff being employed to collate the figures.
I used to train people and worked in a lot of departments.
When I started, some departments had four or five people. Eight years later there were 30 or 40 people - all admin staff brought in to collate data for the government.
Pete, former NHS nurse
Staffing numbers have almost halved since I started training in 1989.
Throw in the extra paperwork demanded nowadays, and you can see why the standard of care has fallen drastically over the last 20 years.
Currently I'm not working as a registered nurse following a bout of depression brought on by work-related stress.
I think I was stressed for most of my 10 years in the NHS and it got worse as the staffing numbers were reduced.
Reduced staffing levels can be blamed for many of the problems or criticisms related to the NHS; people feel frustrated that they can't do their jobs properly, as they are given more work to do.
I have been doing private care work for the last six months and it is much less stressful; there is more time to spend with patients and a smaller workload.
I am viewing this work as a stepping stone to going back to being a registered nurse, but I do worry if I am going in the right direction as I don't want a relapse.
Anon, NHS nurse
I am a nurse within the NHS. In the last year, my team has been amalgamated with two other teams due to cuts in nursing staff.
When we are fully staffed we can just about provide the care we are paid to provide.
But sickness and absence have a large impact on the service we provide.
As well as general sickness there is also a lot of people off with stress due to the increased work pressures.
The main team that I am in does not have a budget for agency or bank staff when people are off sick. We just have to cover for the absences and try to fit our other work in as well.
I am currently looking for other jobs, both inside and outside the medical profession.
Interviews by Alex Emery