New strain of winter vomiting bug norovirus: Sydney 2012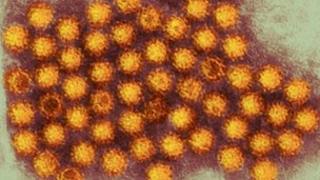 A new strain of norovirus called Sydney 2012 is responsible for the majority of recent cases in England and Wales, the Health Protection Agency has found.
Experts say the new variant is no more serious than other strains.
The Sydney 2012 strain was first seen in Australia, where the norovirus season is lasting longer than usual as outbreaks continue into their summer.
Scientists are watching global trends closely but cannot be sure what will happen next in the UK.
The Health Protection Agency carries out genetic testing on all types of the virus seen in England and Wales.
When levels of the virus began to rise in October 2012, it saw a "cocktail of different strains" circulating.
But Sydney 2012 has overtaken all others to become the most dominant form, it says.
The strain has also been seen in France, New Zealand and Japan.
Prof Ian Goodfellow, at the University of Cambridge, says it is hard to tell the exact significance of the new strain.
"It may mean a longer season of norovirus as we are seeing in Australia or it may mean a shorter one.
"Because we have seen the virus earlier than we would expect in the UK, people who are susceptible to the virus may be infected early on and so the season could end sooner than usual."
Dr David Brown, from the Health Protection Agency, said: "It is always difficult to predict the norovirus season and this year is no different.
"Noroviruses mutate rapidly and new strains are constantly emerging.
"The emergence of a new strain does not mean that it causes more serious illness and managing outbreaks and those with the illness remains the same."
The virus can spread through contact with people with the infection or through contaminated surfaces, objects, food and fluids.
Anyone who thinks they may have the virus should stay away from hospitals, GP surgeries and care homes if possible, the Health Protection Agency says.
The bug causes a vomiting and diarrhoea illness that normally lasts for a few days and leaves no long-term effects.