Winter vomiting bug norovirus levels dip over Christmas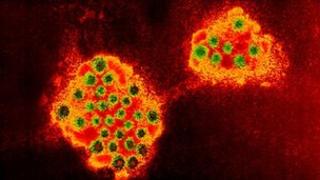 Levels of the winter vomiting bug dipped over the Christmas period, but are likely to go up again as people return to work and school, experts say.
Confirmed cases of norovirus have now reached 4,140 in England and Wales, the Health Protection Agency says.
For each confirmed new case experts estimate a further 288 cases are likely to go unreported.
This season, norovirus has hit earlier than in previous years and experts say the worst may be yet to come.
Global monitoring has shown an earlier than expected rise in virus activity across Europe and Japan.
In Australia, the norovirus season has lasted longer than usual - they are now seeing cases into their summer.
Experts are watching international patterns closely but cannot be sure what will happen next in the UK.
The latest figures for England and Wales are 63% higher than the number of cases reported this time last year.
Thirty-three hospitals have reported outbreaks, closing some wards.
The highly contagious virus can be spread by contact with contaminated surfaces or objects, contact with a person who has the infection or through contaminated food and water.
Experts advise anyone who thinks they may have the virus to stay away from hospitals, GP surgeries and care-homes to avoid spreading it to people who may be vulnerable.
The illness usually resolves in a few days with no long-term effects.